Sometimes when we travel I plan ahead and find all the restaurants I want to try. Sometimes, I don't and when I'm starving we find a place to eat. This weekend we did way more of the second option, which turned out pretty well!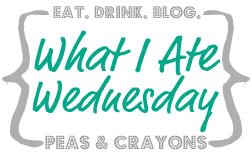 Willow Creek
I found Willow Creek through a quick Yelp search for open restaurants. Many restaurants were oddly closed on Saturday for the Memorial Day weekend, so my original selection was ruled out and I was HUNGRY! I didn't even preview the menu, we just made reservations on open table & showed up 5 minutes later. The restaurant overlooks the lake in the heart of Evergreen, Colorado – a gorgeous view!
At least I thought I made reservations. Actually, I made reservations for the next night by accident! Luckily, eating at the bar was just fine with both of us and our server (Allen!) made it a fun evening. 🙂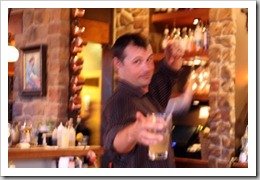 When we arrived, I HAD to have something to eat immediately. Kirk noticed the Beet Salad with Candied Walnut and it was perfect (holding the cheese normally served on this salad). After ordering my salad, the next priority was beer. I'm a little embarrassed to say that I was so focused on food I can't remember the beer we got – only that it was a Great Divide.
The beer was light, but flavorful and refreshing. I'm going to have to find it again (research!). The salad was so fresh and amazing – look at those juicy beets and pile of walnuts. I absolutely love fresh salads like this. It was just what I needed to stave off my grumpiness and get back into fun mode. 🙂
After ordering my salad (and clarifying the salad would be vegan), the waiter came back with an offer from the kitchen – they would be happy to make anything I'd like to eat! I love restaurants like this! The most impressive was the offer to make fresh risotto using veggie stock. The Vegetable Risotto caught my eye originally, so it was the first thing I knew I wanted. As our second entrée, I asked them to put together a vegetable plate – which the chef created as a Goulash.
Vegetable Risotto
Vegetable Goulash
Both dishes were delicious, although I would have added a nut cream sauce to the risotto at home. Before dinner arrived, we also ordered a bottle of wine to enjoy.  Colorado has the law that you can take home an unfinished bottle, which I always love! And check out this wine list! We finally settled on an Italian Red, Masi Campofiorin Ripasso. I don't think we've ever had a Ripasso before, so we had to look up the details. According to Wikipedia,
Valpolicella Ripasso is a form of Valpolicella Superiore made with partially dried grape skins that have been left over from fermentation of Amarone or recioto.
The chef's wife came around to introduce herself and I thanked her for being so accommodating to my eating preferences. She explained that they have trained the staff to NEVER say no – they want to accommodate all diets. What a great attitude for a great restaurant! To finish the evening, we corked the rest of our wine & enjoyed a "faux" figcello and limoncello. Now that's the way to end a meal!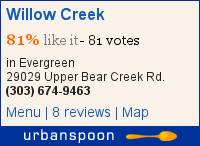 Cabin for the Weekend
We headed back to our cabin after dinner to relax a little before heading to bed. On the way, we saw this moose  female elk (thanks Kelly for the correction!!) crossing the street! We immediately turned the car around and I jumped out with my camera to snap a few pics. 🙂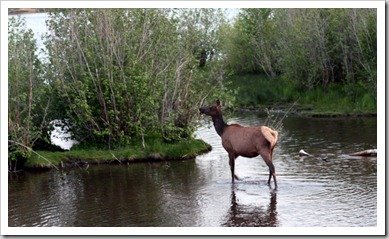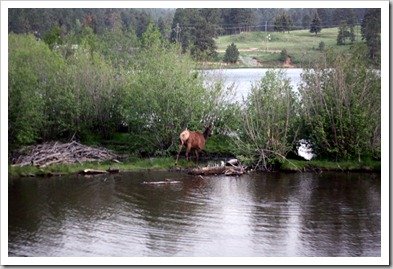 Okay, then it was really time to head back to the cabin. Did I mention it was an AWESOME cabin? We found this property on VRBO – it's a Vegetarian cabin, meaning no meat has ever been cooked or eaten in the cabin. You don't have to be vegetarian to stay here, just agree to abide by the no-meat rules in the house.
The views from this cabin were amazing and it was much bigger than we needed for a reasonable price (especially for Memorial Day weekend). We would definitely stay here again!
*******************
Okay – this post is REALLY long, but there's a lot going on this week! I hope you'll pardon my long-windedness. 🙂
*******************
Questions for you:
Favorite salad topping this time of year?
Do you prefer to stay in vacation rentals or hotels when traveling for fun?