We made a HUGE step forward in our cross-country home this weekend – we put a house under contract!
Kirk actually found this house sometime before I went to Colorado last week and we sent it to the realtor. I honestly wasn't sure I really liked it based on these pictures (all photos on this page are from the real estate site), but in person I loved it immediately. The moment I walked in the house last Tuesday, I knew I could live here and I was really hoping Kirk would like it as much as I did.
Awesome kitchen with solid surface countertops, gas stove, pantry, lots of cabinets & light. The countertops are double thickness granite with pantry and lots of cabinets. We will have to run a gas line to replace the stove, but that's within our budget for this house!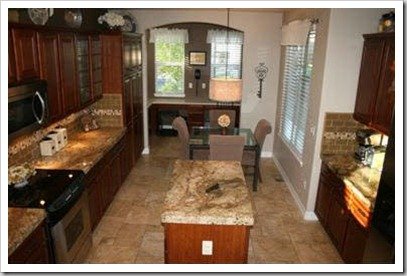 Open floor plan. Yes – very open!! 
2-story open entryway & family room. Another resounding yes! 
Fireplace (even though we won't be able to have real wood fires in the indoor fireplace) The fireplace is double-sided – from the area they used as a living room through to the dining room/family room area. And do you see the built-in wine fridge?!
Good-sized Master Suite. This is one of my favorite features, although you can't really see how cool this is from the posted pictures. Off the master there is a small deck that has a view of the mountains (straight ahead) and downtown Denver (to the right).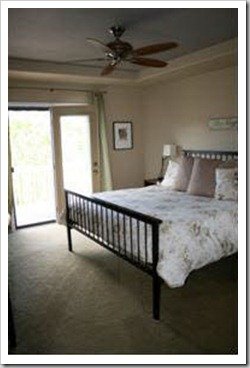 Laundry Room (not a closet, which we currently have). Oh yes, and with nice cabinets!
Basement (finished or unfinished). Unfinished basement, so we can finish it out the way we want.
Large master bath with shower & bathtub with granite countertops
Solid wood fence (another harder than you'd think – lots of split rail fence covenants in Denver). Win here!! The front has a shorter picket-fence, but I'll get that section replaced immediately.
"Large" lot (large is a very relative term in the Denver area). Okay, not large, but a good size for the area with a green space and elementary baseball diamond on the other side of the fence.
Not bad for only 4 weeks after we decided to move, right?! Almost everything I wanted on the checklist and we close in 5 weeks!
It's really funny, because we have always said we wanted our house with a basement, and that's very close to what we bought. It's almost the same size upstairs, but with a TON of upgrades cool features (like central vac!). The unfinished basement downstairs is perfect for us, I can't wait to finish it out for a bar area, wine cellar, and space to set up our bikes on the trainer during the winter.
Now it's time to start thinking of how to decorate the new house. Oh yea, and pack up the current house…ugh!
********************
Questions for you:
If you were moving to a new house, what decorating style would you choose?

What did you do this weekend?