Summer is (unofficially) here! We're spending the week on vacation in Mexico, where it's way too hot to wear pants. Strong legs help me climb the zip-line towers, run along the beach, and look great in shorts. A tough leg workout is a great way to build fat-burning muscles that you can show off this summer.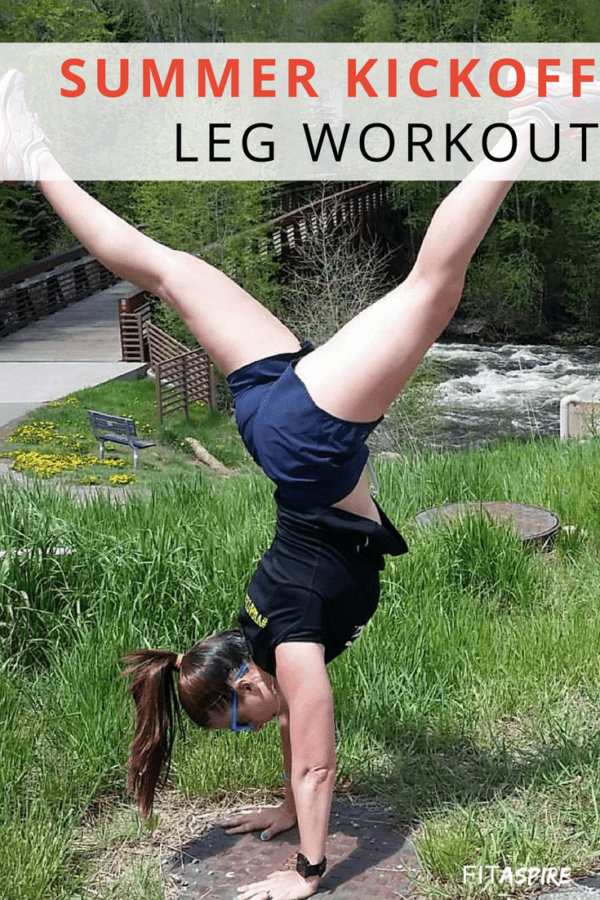 This leg workout is one of the workouts from last month's online personal training program. This workout targets your glutes and quads, with just a few core movements at the end. I typically include a few core movements in my workouts throughout the week, as opposed to a dedicated core workout. You also want to keep your core engaged through the entire workout to lift safely and build additional core strength.
Leg Workout Details
This leg workout follows a super-set format, which means you will complete one set of each exercise with the same number before resting. To help adjust the workout to your experience level, use the guide below to determine your rest interval at the end of each super-set:
Beginners: 60-90 seconds
Intermediate: 45 seconds
Advanced: 30 seconds
If you're at a beginner level, start with Hip Extensions, followed immediately by 10 Single Leg Squats to Bench – then rest for 60-90 seconds before starting that set again. Repeat for a total of 3 times before moving on to the second super-set.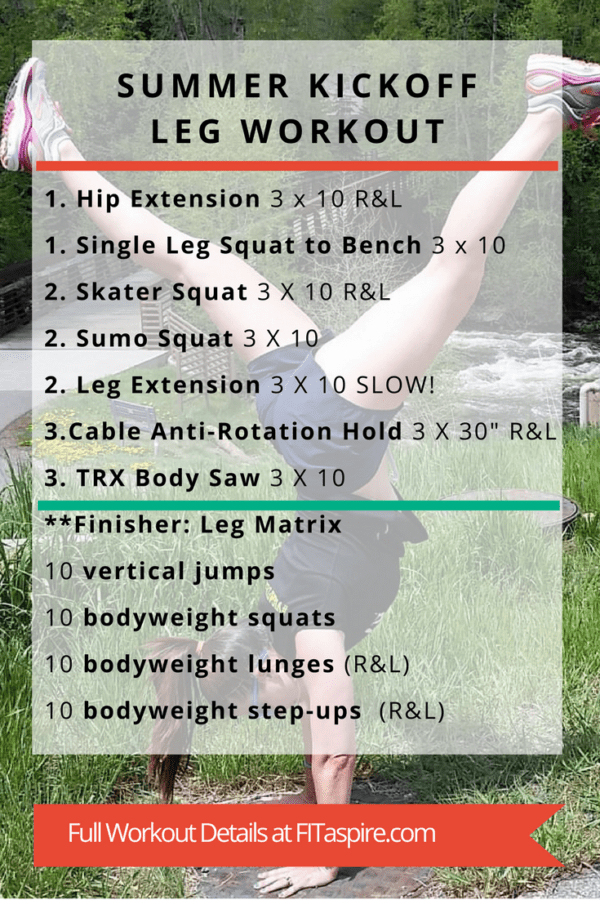 This workout is intended for individuals who can perform all exercises with good form. Remember to consult a physician before beginning any exercise program.
The finisher at the end of the workout is a replacement for HIIT (or High Intensity Interval Training) to add an extra metabolic boost. If fat-loss is one of your goals, this is a great way to add an extra boost of intensity in a short amount of time. Perform each move as a super-set, resting for 60 seconds before repeating the leg matrix 3-5 times.
You can watch video explanations of each exercise below:
I hope you enjoy this workout to build strong legs this summer.
[Tweet "Build strong, lean legs with this Summer Kickoff Leg #Workout. #fitfluential"]
Looking for more workouts? You can browse all workouts here, including options for the gym & home. Or reach your goals faster by joining the next transformation challenge or online personal training program.