I love a good fitness challenge. While I tend to favor endurance challenges, I'm intrigued by many of the events that also test your strength. One of these that I've been considering for quite some time is the Tough Mudder, which is designed to test your all around fitness. While I've shared discount codes in the past, it's not an event that I've had the chance to try for myself. That changes in July, as Kirk and I are pairing up with another couple to tackle our first Tough Mudder Half in Colorado.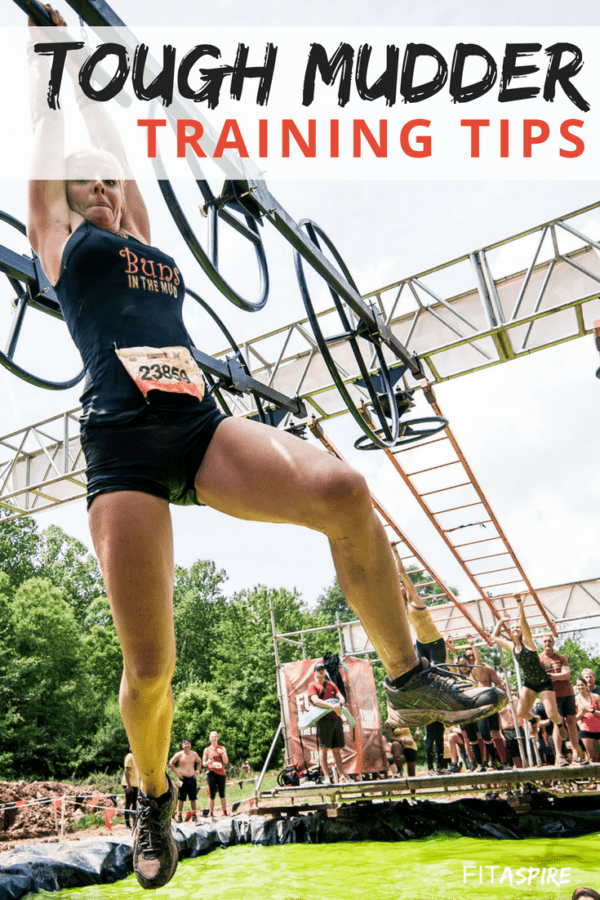 Disclaimer: This post is sponsored by my friends at Tough Mudder. Thank you for allowing me to continue creating great content for you by supporting partnerships with brands I love. As always, opinions are 100% my own!
Exactly what is Tough Mudder?
Tough Mudder doesn't claim to be a race, it's a challenge. The Tough Mudder Half is 5 miles of mud and obstacles, designed to test teamwork and toughness. In this distance, there are 13 of the best-rated obstacles (no ice or electricity). You can skip obstacles, although I am hopeful we'll be prepared to complete them all.
Want to join me in completing a Tough Mudder this year? Use code "ToughMudderBlogger15″ to save 15% off any Tough Mudder Full or Half event in North America through 2017.
[Tweet "Learn how to train for @toughmudder + save 15% off 2017! #fitfluential"]
Training for a Tough Mudder
I haven't completed this event yet, so today I'm sharing a Q&A with Tough Mudder coach, Erock. I'll be using these tips in my own training for the event next month.
What's the number one piece of training advice you'd give a newbie that's training for Tough Mudder virgins?
When training for a Tough Mudder, people often forget that you are not only training to conquer the obstacles that are out there, but also the 10-12 mile run that goes along with it. A lot of people focus on the obstacles and forget that there is a fair amount of running as well, so it's important to incorporate a healthy dose of both endurance and strength training into your regime. Whenever you can, get outside and train, whether it is in your local park or you head out on the trails, it is beneficial to run on the terrain that you will be likely participating on. Tough Mudder events are about teamwork at the end of the day, so train with a friend or partner whenever you can to keep each other accountable and motivated. The motivation of having another person there will help guarantee you get to the gym or get outside to get the workout in.
Do you think beginner runners could run TM? How many months before the event should I start training?
Yes, beginner runners can absolutely run in a Tough Mudder – you should start training ASAP. With the right training, preparation and mental grit, we believe nearly anyone can do a Tough Mudder.  We've recently introduced the Tough Mudder Half, which is a 5-mile version, designed to provide a more accessible challenge, without some of the more daunting obstacles you may have heard of. This is a great opportunity for those new to endurance sports or on the fence about the Tough Mudder Full.
Keep in mind that you're not training for a marathon, and it's totally okay if you walk between obstacles; you'll have plenty of time to rest between obstacles, so work on your sprints and interval running instead of focusing on grinding away on long distances. One of the great things about Tough Mudder is that it's not a race, so take time in between obstacles to talk with your team, get to know and give a helping hand to fellow Mudders, and rest so you can conserve energy to enable you to finish the course and crush the obstacles.
Finally, don't forget about that upper body strength as well. Not only will you need your legs to carry you, your grip strength is needed for many of our amazing obstacles. Find a pull up bar and get to work.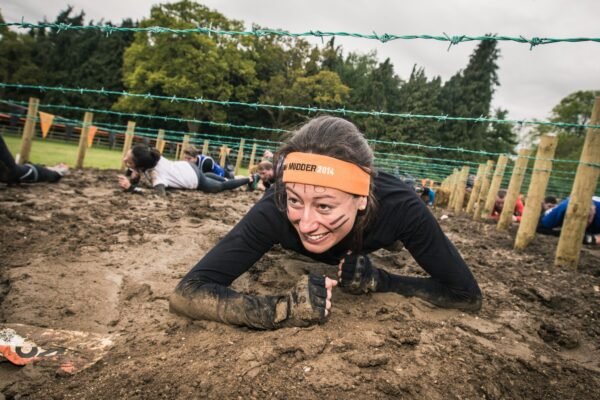 How many days a week should someone training for TM workout and what should be their focus?
The golden number I go by for training is 3x per week. You can do more than that if you're comfortable, but don't jump into a fitness routine that's too extreme because it's easy to overexert yourself. Giving your body time to recover is just as important as training. Take the time to rest, recover and hydrate.
Make sure you create a training schedule and stick to it. You'll want your training to including a healthy dose of endurance and cardio training, and weight training. It's easy to focus just on the running, but don't forget that those obstacles are no joke. Make sure you're physically prepared; factor in moves that strengthen your grip, upper body and core as well. Check out Tough Mudder's training guides and online workout videos for weekly and daily tips, as well as obstacle-specific moves to help you prepare for the course.
Let's say someone doesn't have a gym to workout in…what type of exercises can they do at home?
You don't need a fancy gym membership or expensive workout machines to train for a Tough Mudder. Get outside, run, do sit ups, play with your kids, carry the groceries in from the car, do dips on a park bench… That's the best part about training for a Tough Mudder. Whether it's Tough Mudder or Tough Mudder Half, they're so much fun on event day that you should make training for them fun too. Your basic body weight exercises such as push-ups, sit-ups, dips, pull-ups, etc. are some of the best exercises you can do. Train creative, have fun and try something new.
Strength and endurance seem key to rocking TM. What types of workouts are best to help boost both strength and endurance?
The best kind of training for Tough Mudder or similar events is to do movements that are obstacle-specific. There are a few Tough Mudder obstacles where grip strength is important, like Funky Monkey – The Revolution, so I recommend heading to a park or playground to practice on the monkey bars. You can do a variety of exercises to increase grip strength, like pull-ups, chin-ups, tricep dips, and even moving across the monkey bar laterally or backwards to mix up your routine. For an obstacle like Everest 2.0, where you're running up a slicked quarter-pipe to reach the top, box jumps are a great way to train and build the momentum you'll need.
There are tons of exercises you can practice at the park using basic playground equipment. Bring a few friends and get a good workout outside.
What obstacle(s) do people struggle with the most? Tips?
The unique thing about Tough Mudder is that it's impossible to say which obstacle is the toughest. For someone who's afraid of heights, Everest 2.0 might seem really daunting, but for someone who has less upper-body strength, Funky Monkey 2.0 or Skidmarked could be really challenging. Sometimes it's the mental grit that gets to you more than everything else. For obstacles that require grip or upper-body strength, do obstacle-specific movements that mimic those obstacles. Work on strengthening your back and 'pulling muscles' as many of the obstacles require good upper-body strength. Moves like pull-ups, dumbbell curls, Dumbbell Rows and push-ups will strengthen your arms, chest, lats and shoulders.
It can be either stifling hot or freezing cold in June when TM is in my state. How do I prepare for the possible temperatures, especially with a very wet and muddy course?
My favorite shoe to train in are the Merrell All Out Crush because they're designed with a specific purpose – a purpose to crush it on the Tough Mudder course, while draining water quickly and shedding mud to maximize your grip. Merrell also has a great line of apparel for men and women that is ideal for your workouts, whether it's trail running, hiking or a work out in the park, they're my go-to brand. Once you do your first Tough Mudder or Tough Mudder Half, you'll get the coveted Merrell finisher tee, which is great for training or taking on your next event. The lightweight tee features Merrell's M Select™ WICK technology to combat sweat and dry quickly – perfect for forging through water, barbed wire, and rugged terrain.
It's always a good idea to train in similar gear as what you plan to participate in. You don't want to train in baggy or cotton based clothing as those are some of the worst things to wear during a Tough Mudder. The baggy clothes will weigh you down as soon as you get wet and muddy, and the cotton won't dry keeping you cold and wet throughout the race.
Save on Tough Mudder: Use code "ToughMudderBlogger15″ to save 15% off any Tough Mudder Full or Half event in North America through 2017.
I can't wait for the Colorado Tough Mudder in July. Make sure you're following me on Instagram (and Instagram stories) to follow along with training & the big event!
[Tweet "Learn how to train for @toughmudder + save 15% off 2017! #fitfluential"]
—-
Have you completed Tough Mudder or Tough Mudder Half? If not, would you like to?