What makes a good workout? My definition is any workout that raises my heart rate, challenges my muscles, supports my current goals, and keeps my mind engaged. While I tend to prefer hitting the gym for strength workouts, home workouts are another option and can be just as effective!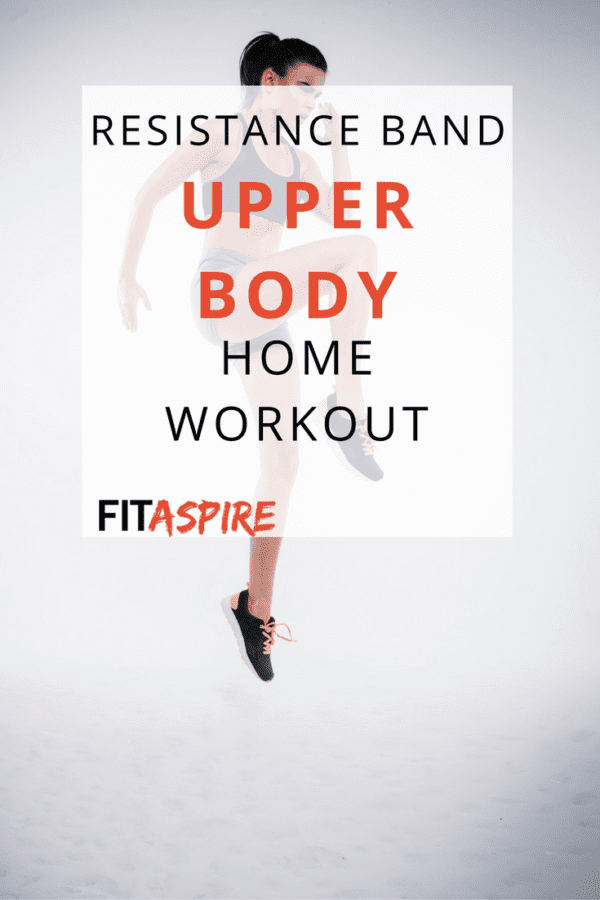 A reader recently asked for more home workouts. I want to make sure that I'm sharing information that help you and your goals, which led to creating today's new home workout using resistance bands. I also asked some of my other fitness friends to share their favorite home workouts, so I can share a bonus library of even more home workouts with you!
I work with several clients who prefer home workouts, both in my VIP and group coaching programs. While each person has different reasons for choosing to workout at home, there are a few key benefits that are common.
Benefits of Home Workouts:
Convenience – you don't even have to leave your house!
No distractions from others who want to chat
No gym membership fees
Little to no equipment required, depending on your goals
No waiting on equipment
Open 24 hours, every day. Even on holidays!
Upper Body Home Workout Details
Now let's get to the new resistance band upper body workout!

This workout was originally written for an athlete that had no home workout equipment. While bodyweight workouts are great, adding resistance bands will help you increase the intensity at a very low cost (typically less than $30!). Look for a kit that includes a door anchor (affiliate link) to give you the most variety in the exercises you can do.
As with most of my workouts, this is a superset workout. This means you will complete one set of each exercise with the same number before resting. To help adjust the workout to your experience level, use the guide below to determine your rest interval at the end of each super-set:
Beginners: 60-90 seconds
Intermediate: 45 seconds
Advanced: 30 seconds
If you're at an intermediate level, start with upright rows, followed immediately by lateral raises – then rest for 45 seconds before starting that set again. Repeat for a total of 3 times before moving on to the second super-set.
Watch video demonstrations of each exercise below:
[Tweet "Try this resistance band home workout for upper body strength! #fitfluential"]
Home Workout Library
Are you ready for that bonus library of home workouts? The list below includes workouts that can be done without any equipment through dumbbells. I hope you'll find a few that you can pin or save for an upcoming workout!
Other home workouts on FITaspire:
>> What is your definition of a good workout?