Do you "Dream Big"? The kind of dreams like being CEO one day, climbing Mount Everest, ending world hunger, or curing cancer?
When you set goals for yourself in your professional life – do you to aim to shatter records or achieve things that seem crazy to others? As a manager in the workplace, I encourage my team to set goals that make them a little uncomfortable. What's the point of a goal you KNOW you can reach?
On Better With Veggies, I hope you have seen that same sense of challenge. What's the point of setting goals you know you can achieve? Setting the bar higher stretches you to reach heights that seem a little crazy.
In either your work or play, BIG goals can inspire you to accomplish GREAT things!
What does a BIG goal look like?
Big goals vary based on your situation.
Run a 5K
Ski a black diamond run
Race an Olympic triathlon
Run an ultra marathon
Complete an Ironman triathlon
These can all be BIG goals for different people.
For someone who hasn't exercised in years, the thought of registering for a 5K race is often intimidating! Paying that registration fee is a big step and it motivates you to action, putting in the time to improve your running over several months. It's not easy, it could be painful, and you want to prove to yourself that you CAN do it!
That's a BIG goal.
For a triathlete that has done a few "short" distance triathlons, taking the leap to an Ironman (or even a half Ironman) is HUGE leap!  But scary, audacious goals are what lead to breakthroughs. These kind of goals help you learn more about yourself and how strong you are!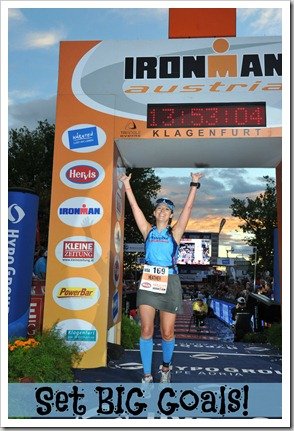 Fear Can Be Helpful!
Many people see fear as bad, but it can be a powerful motivator. When I'm busy, stressed, and have other things I could be doing, the fear of Ironman keeps me on track. I can't fake my way through an Ironman, so it helps me stay consistent and motivated to do the work.
When I trained for my first (and second) triathlon, I was a terrible swimmer. I spent time in the pool, got a coach to help me, and recruited Kirk to help me get more comfortable swimming in open water so that I could make it through the race. It was WAY outside of my comfort zone, but achievable with work and dedication!
When is a BIG goal bad?
Jumping into something far over your head isn't cool. If you haven't exercised  for years, signing up for an Ironman isn't a BIG goal, it's a stupid goal. You want it to be challenging, not unsafe! Make it a stretch, not an injury waiting to happen!
Other opinions on BIG Goals?
This topic is part of a synchroblog topic that Alex suggested. Make sure you check out these participants for more thoughts on this topic:
*****************
Questions for you:
What do you think about BIG goals?
Any BIG goals on your list right now?