The last guest post of the week is from the amazing Bonnie Lang of Life to the Full. Bonnie is simply an inspiring person – she is the only person I know who will go for a 20 mile run for fun (no races planned at all!!). She also shares amazing videos of her active adventures in Canada, including some great skiing videos with her hubby. I think you'll quickly see how awesome and genuine she is from her guest post, so make sure you click over and check out her blog too!
———————–
Hey Better with Veggies friends! My name is Bonnie and I blog over at Life to the Full about fitness and healthy living as a personal trainer at-home high intensity workouts, exercise challenges (100 burpees for time, anyone?), and bits of mine and my husband's adventures.
I've been reading Heather's blog for a while now and am so glad she asked me to guest post while she's away having a blast! Thanks for stopping in while she's ripping it up on the slopes. 😉
Part of what drew me to Heather's blog was what she loves to do: run! I ran cross country and track (800 m, the mile and the 2 mile but I especially loved those 8 laps around the track) in high school and right from the beginning it came naturally to me. Since then I have continued to run and love it because it has taught me so much, even from a young age, and continues to serve as an emotional outlet, form of physical fitness, and character builder in my life. While there are many things I've learned from running, I wanted to share how it's helped me in different times of my life.
– – – – – – – – – –
I started off my freshman year running varsity races and soon started winning – often. Because I didn't expect it and knew nothing different, it seemed normal and not like a big deal as I ran with friends and enjoyed every new race and experience. Soon enough, however, I came to expect to be in the front of the pack and my identity slowly became that of the crazy, fast, long distance runner at school. I loved it and embraced the butterflies in my stomach on race days, making friends with the top runners from the other high schools we raced against and even competing as a solo runner from my school at the California State Cross Country Championships twice. It was a wonderful community and helped shape my character immensely as a teenager.

However, it soon took over my identity, which, when coupled with the fact that I started slowing down at the end of my junior year (grade 11 for my Canadian readers!), meant I started dreading race days. I wasn't competing at the same level and I was embarrassed, wondering what the coaches of others schools would think of me and was inconsolable at the end of a poor performance (as my parents can attest to).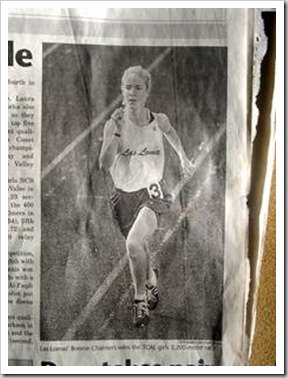 It took some humbling races and honest conversations for me to realize that running had become too much of my identity, and I am so thankful for the people in my life who spoke to me in those times and confronted me on what was most important: trying my best and "leaving it all on the track," as my dad would say, rather than coming in first. Running tested my physical abilities but more importantly tried my character and ultimately was a great parallel for me for staying the course and fixing my eyes on Jesus, not myself and my own success.
– – – – – – – – – –
Fast forward through university, where I played rugby for a year, through years of close relationships and new experiences, where I ran only for fun and fitness occasionally. Keep going through my time as an outdoor adventure guide with my then-fiancée and our marriage and first home in a small trailer in the mountain town of Plain, Washington. I ran for enjoyment in the off-season from being an outdoor adventure guide with youth, winding down country roads and loving the fun, quiet, fresh season of life. Running then was an outlet for me and a wonderful alone time where I soaked every moment in; I loved it more and more during those years even though it wasn't a focus of my life.

Running the Hood to Coast Relay in Oregon – down from Mt. Hood here on the first leg of the 2-day journey!
– – – – – – – – – –
In May 2008, everything changed overnight. My husband was diagnosed with Hodgkin's lymphoma and in the blink of an eye we packed up our trailer, said goodbye to life in Washington, and moved into his parents' basement in Calgary, Alberta (north of the border) during his chemo and radiation treatments. During this time, running was my emotional outlet. I became a permanent resident, began work as a personal trainer and spent long hours in the gym building my business while he could not work, leaving over a break at lunch to be present at his appointments at the cancer center. If a client cancelled at the gym, I ran. When it was bitterly cold outside (still adjusting to the Canadian winters!), I ran on the treadmills at the gym; in the summer I ran on the roads. I didn't realize that I needed an outlet; I thought I was doing great dealing with all the change and there were many joyful moments during that time too. But looking back I realized how thin I was (must have been stress as I remember eating all my mother-in-law's baking!) and how much I ran during that year and a half – unconsciously for my sanity and to deal with my emotions.

Cross Conservatory just outside Calgary, Alberta, Canada
– – – – – – – – –
Today I run because my body craves it. Running is a time for me to pray and connect with God even silently at times. Running is a challenge – both mentally on tough runs and physically while charging up hills or just making it out the door. I love packing up some fuel and heading out, not knowing how long my legs will carry me but thankful for the ability to simply move. While running continues to be something that defines who I am, it's not all of who I am but only a part. I am a wife, a friend, a daughter, a personal trainer, a motivator AND a runner. Above all, I've learned that I'm most defined by being God's beloved child, with whom he is well pleased, and I will continue to focus on what's most important: running (not winning) the race.
"Therefore, since we are surrounded by so great a cloud of witnesses, let us also lay aside every weight, and sin which clings so closely, and let us run with endurance the race that is set before us looking to Jesus, the founder and perfecter of our faith…" (Hebrews 12: 1).
If you're a runner, why do you run? What motivates you to lace up and get out, and how has running helped you through different seasons of life?
Thanks for reading and feel free to stop by the blog any time for more musings on life, running, and high intensity, at-home workouts! Have a great rest of your week friends!
Live well & be well,
Bonnie