I hope you have enjoyed all the awesome guest posts over the past week! I was so thankful that these awesome ladies agreed to help me out and share with my awesome readers! In case you missed any of the fun, make sure you check these out:
*************************
I have to say, I enjoyed the time away!! I had a great week in Utah – with many hours of fun spent on the slopes. The snow wasn't as amazing as it usually is out there, but the spring conditions were still a lot of fun and we even ended the week helping a friend conquer his first Intermediate run. I think we created a new snowboarding fanatic. 😉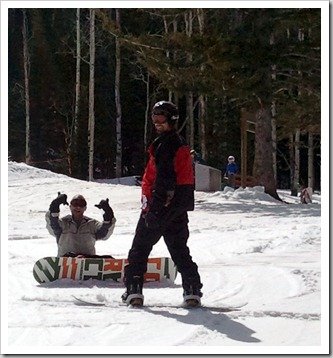 Mark (taking a break) and Kirk (standing up)
I have lots to share, but today let's start focus on our time on the slopes! We rode 5 out of the 7 days, so a great deal of our time was spent on the white stuff. Most days it was pretty warm, but the second day it was freezing. I don't think I took a single picture that day, because I didn't want to pull my hands out of my gloves.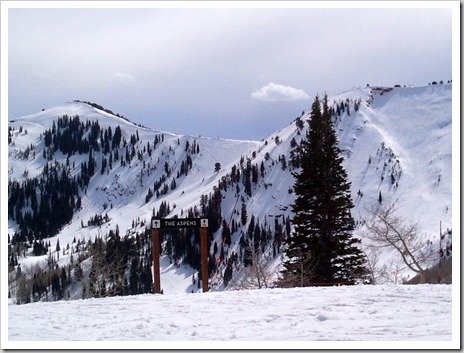 The snow was aptly described as "spring conditions" for most of the week – which means soft. As long as it didn't turn to ice, I was happy. I can ride fairly well in "corn-snow", although the "mashed potatoes" feeling that arrived later in the week was a new one to me. It got SO soft that it would slow you down (or stop you) as you were riding down the mountain. A good workout for your legs to move through it!
We've been riding at The Canyons for several years now, so it's fun to revisit spots on the mountain that are less travelled and old favorites. There's a stretch through the trees off the terrain park that Kirk and I both love. We usually can't get all the way through the trees without a bit of a hike (it flattens out before the clearing), but it's always worth it. Quiet, powdery, and peaceful – I don't think we've ever ran into anyone else in "our spot".
After at least 18 hour of riding over 5 days, I was still sad to see our time at The Canyons come to a close. This was our only time on the slopes this year, since there was certainly no snow in the Southeast this year. We're already talking about planning at least 2 trips next year – hopefully Whistler & Vermont. We also kicked around the idea of South America for summer snow, but I'm not sure I see that happening this year.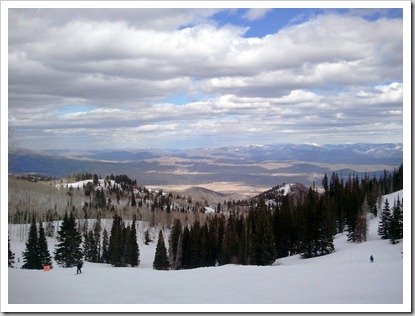 At least we have some pictures & great memories to tide us over until our next trip to snow country.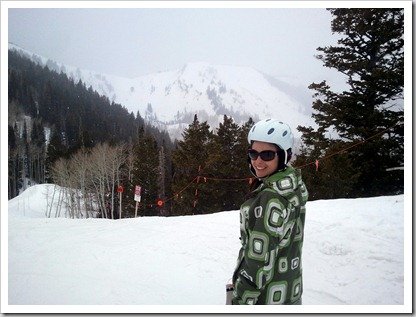 *************************
Questions for you:
What is your favorite active vacation in winter months?

Do you prefer the mountains or ocean – or both? =)

What's the temperature where you are today? It's in the 80s back in Atlanta!!