I'm back with more vacation recap! So far I've recapped my vacation workouts & our 3-day dive trip to the Great Barrier Reef.
Today, we're back in Cairns for 3 days before the Ironman. During this time, our focus shifts a bit to race preparation. Kirk had a few short workouts to make sure he was ready to race & I spent a little time in the hotel gym myself.
In the spirit of race prep, we did our best to do more low-key things. Like spending some good quality time at the Shangri-la hotel pool, which was pretty amazing.
Or on our patio drinking wine. These are obviously excellent ways to stay off your legs and prepare for a big race, don't you agree?!
Other than a great pool & patio, the location of the hotel was great for scenic views & food. The hotel was right on the marina/yacht club, so I couldn't help taking a million pictures of the boats with the mountains as the backdrop.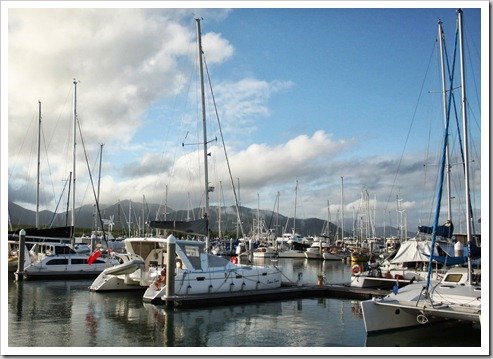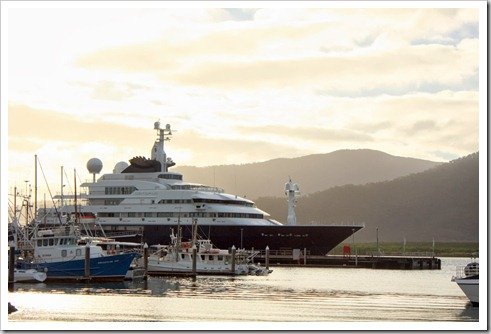 The giant yacht in the photo above is the Octopus, owned by Paul Allen (co-owner of Microsoft). He must have followed us here, because he was also in Venice a few years ago while we were there. Obviously we know all the cool spots to vacation.
We also spent a few hours at the Cairns Wildlife Dome, which is a mini-zoo at the top of the Cairns Casino. This was our first chance to see some of the typical Australian wildlife during the trip & it was a lot of fun!
They had also set up a few ropes course options directly over the zoo, which I had to participate in. I chose the highest option and had a blast making my way over ropes, kegs, and zip lines (including the last one over the huge alligator).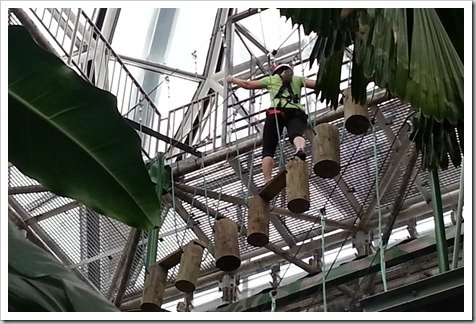 The day before Ironman Cairns, was the most relaxation/off your feet focused. Even though I wasn't racing, I LOVED the downtime. We always feel like we have to go-go-go and see everything when we travel. The excuse to lay in bed and watch TV was fantastic. Maybe we should actually "schedule" this in our vacation time more often!
That covers most of our pre-race activities, which mean Ironman Cairns is next up for recap. I've been trying to convince Kirk to write a post with his experience, but otherwise you'll get the sherpa-version.
*********************
Questions for you:
When you travel to a new place, do you plan time to relax or do you try to see everything?

Favorite relaxation activity on vacation?