One of my favorite holidays that we celebrate in October is Oktoberfest – although it's celebrated primarily in September in Germany. We actually have a kitschy "German" town in North Georgia – Helen, GA – that is Oktoberfest central during September & October.
Kirk and I  typically plan a weekend trip with friends to Helen to enjoy the festive atmosphere, Dirndl & Lederhosen, & heavy German food.  This year we won't be able to enjoy an entire weekend, but we are planning on a day trip to soak up the sights. Now if only we could find Field Roast "Sausages" in Helen – that would complete the experience for me! 🙂
2010 Oktoberfest Weekend
Many of the traditional Oktoberfest favorites aren't quite vegan-friendly. At least they weren't until I got my hands on them. 🙂 Our Oktoberfest Feast this evening was full of traditional flavors and much healthier than normal!
It started with Mama Pea's Soft Pretzel recipe:
Even going into the oven, these looked amazing. I was so excited that I made these – an added bonus to cooking at home. 🙂
Then add some German Potato Salad, Sausage, Sauerkraut, Field Roast Smoked Apple Sage "Sausages" & whole-grain mustard to round out the meal: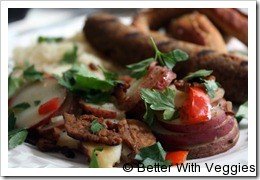 And now the potato recipe to help you re-create this for at home! Don't forget to make Mama Pea's Pretzels to complete the meal!
German Potato Salad
Author:
Ingredients
1½ pounds red potatoes, cut into 1/8-1/4 inch slices
8 slices smoked tempeh, cut into 1/2-inch pieces
½ cup onion, diced
¼ cup red bell pepper, diced
¼ cup cider vinegar
2 teaspoons sugar
⅔ teaspoon sea salt
¼ teaspoon black pepper
1 tablespoon parsley
Instructions
Steam potatoes, covered, 15 minutes (or until fork-tender).
In a medium skillet coated with cooking spray, sauté tempeh in over medium heat until starting to brown. Add onion & bell pepper, sauté until tender & starting to brown.
In a small bowl, combine vinegar, sugar, salt, and black pepper. Add the potatoes, tempeh, onion, bell pepper; toss gently to coat.
Cover and marinate for at least 1 hour (the longer the more the flavors will combine). Add parley when plating for color.