I had a few people ask for the recipe of the breakfast cake I posted on Instagram yesterday. I was going to wait until next week, but I decided you might be in the mood for a special treat over the weekend.
Not that you need to wait for a special treat with the nutritional stats on this cake! Just over 300 calories per serving, with 12.4 grams of protein. PLUS, this treat kept both Kirk and I full until lunch!
I've been inspired by the breakfast cake creations of Heather & Laura, but creating a vegan version took a little work. It really only took this long because I kept running out of time (or protein powder) to make it. Yesterday morning, I had enough time for my third attempt. I guess the third time was the charm in this case!
The cake looked promising from the moment I pulled it out of the microwave. When Kirk took the first bite, I knew it was finally done! I think the key to this vegan version is to beat the crap out of the Ener-G, so you really get a good foam.
Pumpkin Protein Breakfast Cake
Recipe Type
:
Breakfast, Snack
Author:
Ingredients
For the Cake
1 scoop Vega Chocolate Protein Powder
2 tablespoons Cocoa Powder
1 teaspoon cinnamon
1/2 teaspoon ground allspice
1/2 teaspoon nutmeg
1/2 teaspoon baking powder
1/4 cup almond milk
1/4 cup pumpkin (canned)
3 teaspoons Ener-G + 4 tablespoons water
For the Frosting
1 1/2 tablespoons nut butter (I used sunbutter)
1 tablespoon maple syrup
1 tablespoon almond milk
Instructions
To make Cake
Combine protein powder through pumpkin in a medium bowl and stir to combine. In a small bowl, combine Ener-G and water and beat vigorously with a fork until frothy. Stir "eggs" into cake batter and stir until just combined.
Divide mixture between two small bowls (I used large teacups). Microwave one at a time for 4 minutes. When finished, run a butter knife around outside of teacup and flip over onto a small plate, so the bottom of the teacup becomes the top of the cake.
To make Frosting
While cooking, combine nut butter, maple syrup, and almond milk in a small dish and stir with a fork until combined and smooth. Divide frosting between two cakes and spread evenly.
Serve immediately!
I know I don't make most recipes more than once, but breakfast is a little different. This will likely make more appearances on our table.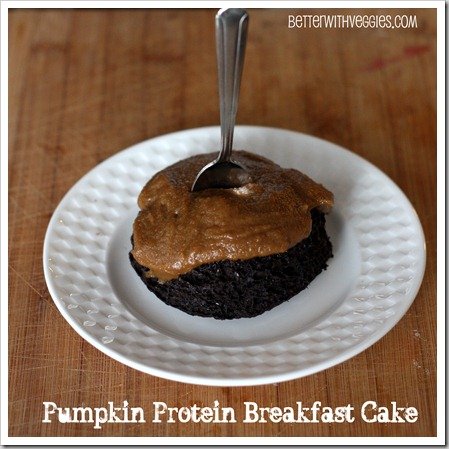 ********************
Questions for you:
What other flavors of breakfast cake can you dream up?

How about the new logo – what do you think?