When Sarah recommended flax, I knew it was going to be a fun week on Meatless Mondays from A-Z. I use ground flax seeds daily in my morning smoothies and add them to a ton of other goodies. But I wanted to try something different. And I must have been inspired by Sarah when I decided to try my first nut butter.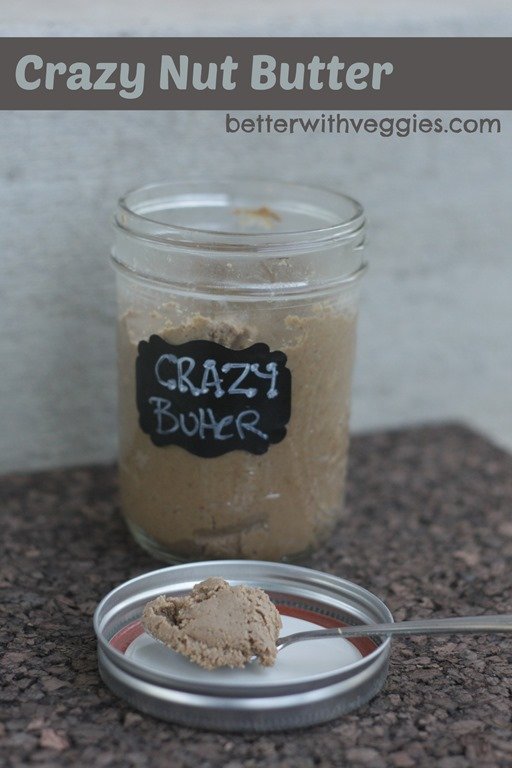 I had so many extra nuts in the pantry, I wanted to combine a few and get a different flavor than the normal nut butter. And the flax adds an interesting nutty flavor, even on top of all the other actual nuts in this mix. It's an interesting & delicious flavor that I could really get used to.
I admit that after getting home from this weekend's Bachelorette shenanigans at Epcot, I was eating this by the spoonful on Sunday night. Homemade nut butter for the win!!
Crazy Nut Butter
Recipe Type
:
condiment, side
Author:
Ingredients
1/2 cup almonds
1/2 cup cashews
1/2 cup peanuts
1/4 cup sunflower seeds (without the shell)
3 tablespoons ground flax
1 tablespoon maple syrup
1 scoop Vega chocolate protein powder
1 tablespoon coconut oil, melted
Instructions
Combine almonds through peanuts in a food processor and mix until thoroughly combined. Scraping sides with spatula, as needed. Add remaining ingredients and combine until smooth and creamy, about 5 minutes. While mixing, scrape sides with spatula, as needed. Store in a Ball jar or similar.
As simple as this recipe is, it's just as yummy and you'll think twice the next time you buy a nut butter at the grocery store. It is nice to have complete control over the ingredients. Next time, I think I'll try this with an extra scoop of protein powder. If you try that, let me know!