Some weeks I'm really prepared with Monday rolls around. This week wasn't one of them!
We flew to Atlanta for the weekend after work on Friday to celebrate an early Thanksgiving with Kirk's family. We celebrate with his family early every year, so that people don't need to try to fit in several meals on the actual day.
Since I was also sick last week, I didn't have a chance to work on this recipe until Sunday night when we got back home around 9PM. I did brainstorm the idea over the weekend and tried to keep it simple.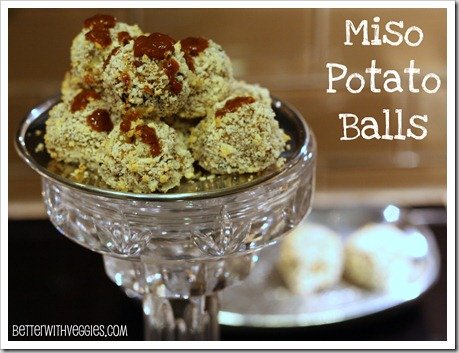 The idea for this recipe was actually inspired by one of Jenn's treats I've had pinned for a little while. The recipe itself is pretty different, but it sparked the idea when I needed it!
Miso Potato Balls
Recipe Type
:
Side, appetizer
Author:
Ingredients
+For Balls
6 red potatoes, peeled
1 1/2 tablespoons barley miso
1/2 tablespoon wakame (or other seaweed)
1/2 cup panko, divided
salt and pepper
+For Sauce
2 teaspoons barley miso
1 tablespoon water
1 teaspoon sriracha
Instructions
Preheat oven to 375 degrees. Line a baking sheet with aluminum foil and set aside.
Bring water to a boil in a small pot (enough to cover the potatoes). While water heats up, peel and chop potatoes. Add potatoes to boiling water and boil for 15 minutes, or until potatoes are fork tender.
Drain potatoes and transfer to mixing bowl. Mix potatoes until mostly smooth (mashed) and add miso, seaweed, and a dash of salt & pepper (to your taste). Add 2 tablespoons of panko and mix until combined.
Put remaining panko in a small bowl. With your hands, roll potato mixture into balls (I tried a few sizes and preferred the small 1-2 inch balls). Roll ball in panko to coat and place on prepared baking sheet, about 1-2 inches apart.
Bake in oven for 16-18 minutes, or until panko is lightly browned. Allow to cool slightly.
To make sauce, mix all ingredients together in a small prep bowl. Drizzle over balls and serve!
Powered by
Recipage
These balls are crispy on the outside and soft & creamy on the inside. The sauce isn't required, but it enhances the miso flavor (and it's yummy).
I have a few variations of this recipe in mind already, including one with sweet potatoes that Laura might even like.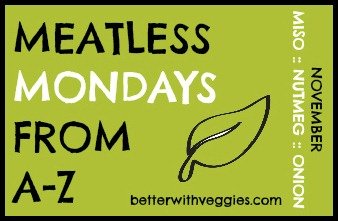 ********************
********************
Questions for you:
How does your family celebrate Thanksgiving?
Do you like pinterest for recipe inspiration?