This weekend I completed the Marine Corps Marathon – my 7th standalone marathon (8th including Ironman Austria or 9th including the Jed Smith 50K). It's the first marathon I've done "for fun" and the most undertrained I've ever been for a race this distance.
It was also, surprisingly, a lot of fun!
We flew to DC early Saturday morning – might as well get on the east coast schedule, so we could go to bed early on Saturday night. We packed in only backpacks, so we could go straight from the airport to the expo. Having done this race last year, we knew how long it took to get that location and wanted to get it out of the way.
I hoped to find Running Skirts at the expo and found it as I had almost given up. Knowing it was a risk, I decided to buy a new skirt for what I thought would be a really rainy day. I had read good things about the skirts and my packed one was so old it was really starting to chafe. I took a risk and bought their new pattern, which features distances from many of the races I've done: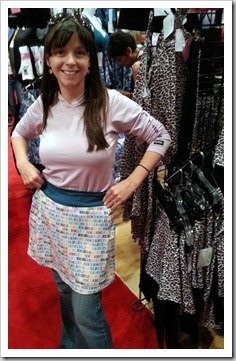 As soon as we got to the hotel, the first thing I did was lay out my race day outfit. Better to know early if I forgot anything!
In my bag:
Rainbow tutu
Marathon Bar visor
Better With Veggies Shirt from My Pace Gear
Nathan Speed 2 Belt
Pro Compression Socks
If you've been following for the past few posts, you may notice that both my skirt AND my shirt were new. I broke a cardinal race rule on Sunday, wearing TWO new items for the race. It was a fun race, so decided to risk it. And I was happy to discover that both the skirt and shirt were as comfortable as can be!!
And I LOVED the side pockets in the Running Skirt – I am a new fan of this company! I put my phone in that pocket and it was super-comfy under my tutu.
Okay – so on to the race. I'll admit I was pretty nervous about this race. When you know you're undertrained, it can be a little scary to start a marathon. I chatted with people around and trying to block out the distance I had to run. Honestly, I try to forget the distance for most long races I do. It's too overwhelming, so I ignore it! =)
Instead I focused on running slow, smooth, and easy. It took me a few miles to settle into my pace, but I targeted 9:30s knowing it was going to get tough with the limited mileages on my legs. I focused on just running 10 miles.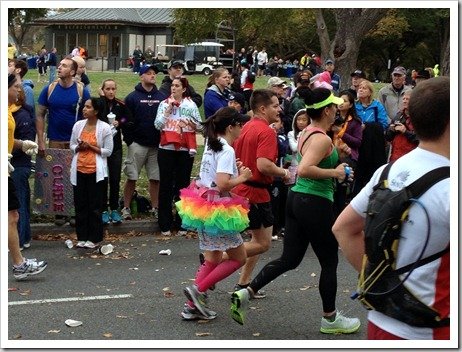 Photo courtesy Matt Swilling
The first 10 miles were NOT what I expected – very residential with beautiful fall trees and houses. There were lots of hills in the first 3 miles and I was thrilled to find that they felt easy. I am terrible at running hills, always have been, it's a huge weakness of mine. But the past few miles of running hills near my house at 6000+ feet really paid off this weekend…it was comfortable!
Around 10.5 miles I found my friends Melody & Matt – cheering me on near Lincoln Memorial. Somewhere around 13 or 14 I passed a group of posters with fallen soldiers pictures which were really moving. I'm not an emotional person, but I'll admit I got choked up on this section. I am so appreciative of those who serve our military and put their lives on the line for my freedom. Thank you!!
At around mile 16 I looped back into the heart of DC to see Matt & Melody again. I was tired, things were hurting, and I was in denial about the remaining 10+ miles I had to run. Denial is a fabulous thing…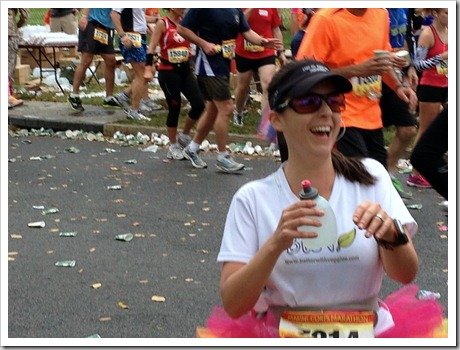 Photo courtesy Matt Swilling
I started walking most water stops around mile 18 – knowing that was my longest run this training cycle and I had done better than I had in training. Success!!
The rest of the race starts to blur together a bit. There was certainly pain, pushing through to where it becomes background noise, a little walking (but not much), and more running. It really was much better than I expected, although I know that sounds weird. I also got to see Stacy! The first time she caught me walking (oops!) while my foot was bothering me. The second time I tried to encourage her and her friend (although it may have come across as obnoxious). It's always helpful to know someone's right behind you – good motivation to keep running!
Finally, I got to the last hill up to the finish line. What evil person put that hill there? I put my head down and refused to walk up that hill… past Lauren, Greg, and Sarah apparently! But eventually, I crossed that darn finish line with my 3rd fastest time (somewhere around 4:19:xx). I was pretty happy with this time – not bad for an unprepared race!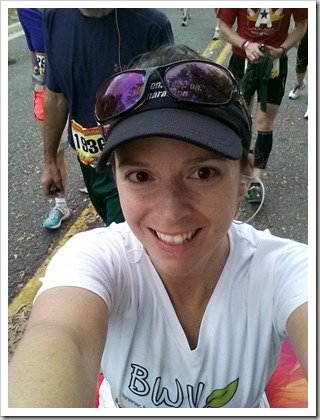 I immediately pulled out my phone, snapped a pic, and instagrammed. Wow, I'm a social media dork, huh?!
I then noticed that Sarah had instagrammed she was coming to the race! Really?! I started looking around, texted Melody & Lauren, and finally saw these awesome ladies and signs waiting for me!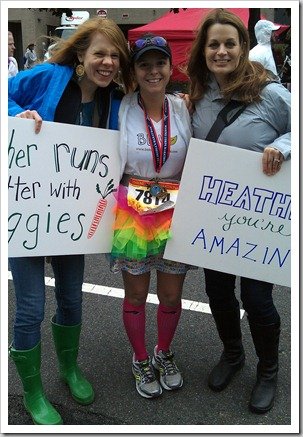 Photo courtesy Matt Swilling
This was such a fun surprise – I love these ladies and check out these awesome signs!! And of course, there were many more photos of my goofy smile, obviously so happy to be done running for the day!
Photos courtesy Matt Swilling
And that sexy man next to me? He ran a PR race – I am so proud of him!
After the race, the line for the metro was incredibly wrong that we decided to walk instead. We found a pizza place I knew had Daiya cheese and amazing beer – perfect post-marathon food in my opinion.
Photo courtesy Melody Swilling
It was a great day, a great race, and I am so grateful to have amazing friends. Thank you SOOOOO much to Matt & Melody, Lauren & Greg, and Sarah – I love you all and I am so blessed to have friends like you!!
*******************
Questions for you:
What race distance would you like to ENJOY that has always been a serious race?

What is your favorite thing in a race?

What was the last race rule that you broke?

Girls – what are your feelings on running skirts?