I haven't done a "normal" WIAW in quite some time. You know, where I actually post everything I ate on one day. This week, I was intentional about taking a few photos throughout the day. Not pretty photos, but photos!
But the highlight of today's recap is definitely Raw Food Night at Root Down, a monthly event that Laura has been telling me to go to for months. So grab a cup of coffee (or tea) and get ready to read about a lot of food!
Breakfast: I made a double portion of Spabettie's Chocolate Hazelnut Breakfast Couscous on Monday morning. Kristina originally shared this on MMAZ's Israeli Couscous week and I'm so happy I finally got to try it. It was pretty quick to make and refrigerated well. I ate this on my way to the polls. 🙂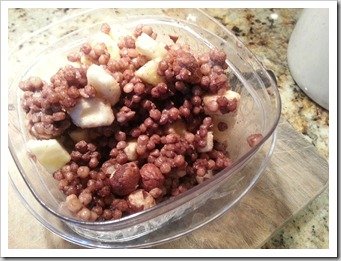 Lunch:
Kirk made this big 8-serving
Tamale Shephard's Pie
from Post Punk Kitchen on Monday, which we are eating for lunch all week. We don't do this very often, but it sure is convenient. And I'm not minding the repetitiveness at all with this creation, which we topped with a generous portion of hot sauce to amp up the spice.
Snack
: Our dinner reservations weren't until 8:15, so a snack was necessary when I got home from work. I was happy to find we still had a few
Miso Potato Balls
left in the fridge – so I enjoyed FOUR while working on a training plan for Tina.
Dinner: And now the main event – Raw Food Night at Root Down!! This dinner is held the first Tuesday of each month, something I may be adding to my calendar more often. It's raw, vegan, gluten-free, and organically sourced – I think they have everyone covered with this dinner.
*****
This 4-course dinner has a cocktail pairing option, which you KNOW we opted for. The drink paired really well with every course, the flavors that really came out changed with the flavors in each dish.
Apple Pair Chutney, Lemon Juice, Pomegranate, Prosecco
(they were a little lazy on this one and didn't share a name).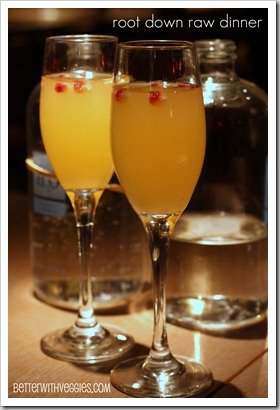 Carrot Curry Soup
Apple Pear Chutney, Micro Cilantro

The soup was a great start to the meal! Although it wasn't hot (nothing over 118 degrees), the flavors were warm and it gave the impression the soup was warmer than it was. Creamy with a crunchy texture from small apple-pear pieces. Yum!
Harvest Samosas
Cranberry Mint Chutney, Ginger Spice Yogurt
This dish was fantastic – I tried to eat as slowly as possible to make it last longer. The flavors reminded me of Thanksgiving, with the cranberry and sweet veggies. The texture was a mix between a dense pie crust and a muffin top, if that makes any sense. This makes me want to buy a dehydrator even more!
Autumn Fettuccini
Herb Infused Cream, Vegetables of the Moment
A light dish in contrast to the heavier samosas, the spiralized veggie fettuccini was covered in a bright cream sauce and a wide variety of veggies. I was so impressed with how good the texture of the veggies were, knowing that they couldn't be cooked (especially the asparagus).
Pumpkin Crème Brûlée
Marshmallow Fluff, Pomegranate
My favorite course of the evening was dessert. The crème brulee interpretation was one of the best things I've put in my mouth in a while – so rich, creamy, and pumpkiny! I wanted to lick the bowl at the end, but restrained myself in public. I did use the dehydrated strips to scoop up as much of the "pudding" as possible.

And that wraps up What I Ate Wednesday Tuesday.
*******************
Questions for you:
Have you tried a raw dinner?

What was the best thing you ate yesterday?

Did you stay up late watching the election results last night?