This is part of series I wrote in 2011, which describes my progression from non-runner to Ironman athlete — a long journey that I am very proud of! I hope this story will inspire you and help prove that you can achieve the impossible, no matter where you start. Links to the rest of the story are at the bottom of this installment.
**********************
My Story picks up in my second year of triathlons. I add olympic-distance triathlons to the mix, which is a big jump in swimming. I spent a lot of time trying to learn about the best ways to train and how to improve, but I hit a wall and was really struggling on the run. I met a lot of great people through our triathlon club and hired a friend and triathlon coach, Brett Daniels, to help me get better. I got a lot faster and stronger as a coached athlete, it was a very smart investment. I started to get faster and added a Half Ironman distance to my schedule in the third year – a very long, hard race for me. I continued to work at it and improved a little more with each race. In 2006, I completed marathon #3 and finished with a smile on my face! It wasn't my goal time, but I felt good about my effort and earned a 5:05 time.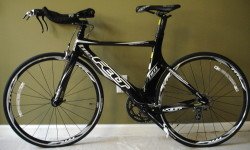 At the end of my third year of triathlons, I was able to get a triathlon bike. The geometry on a tri bike is different from a road bike, something that helps save your legs for the run. This was a big step in the right direction for me. I focused on Half Ironmans for the next two years as my key races, as some of my friends started moving to Ironman. The year I planned to sign up for my first Ironman (you have to sign up for most Ironman races a year early, as they sell out quickly!), I started feeling burned-out. When I did not finish (DNF) a Half Ironman in early 2009, I knew I needed a break. I had been training hard for so many years, and had trained for a few more marathons during the triathlon off-season, I was not mentally into the training or racing. I also admitted that I did not enjoy swimming…at all! I decided to switch to duathlons and cut out swimming – focusing on shorter distances (less training) and what I enjoyed. I decided I had to reason to be coached at this point (no focused training) and Brett began to coach Kirk (who was getting ready to train for his first Ironman).
(source)
I had a blast switching to duathons. The training seemed so much less with only 2 sports and I was able to focus on the run and getting faster. I paid too little attention to my bike, but made a lot of progress on my run over the next few years. In 2010, I ran the Georgia Marathon (a hard, HILLY race) in 4:16. I had hoped to break 4:00, but was still excited about my huge improvement. I got my mental focus back and was having fun training again! I did lose a lot of my bike strength/speed over the break, something I still haven't fully recovered, but it was the right decision for me. After watching Kirk train for and complete Ironman Germany in July 2010, I was ready to take on the challenge. I registered for Ironman Austria the night after Kirk's Ironman, at midnight, in Paris, at a McDonald's (free wifi), on my iPhone – let the crazy begin! 🙂

Ironman training didn't really start until December, so in November I ran the NYC Marathon (marathon #5). What I didn't mention above is that I had trained for this race 2 times already, paid for it 3 times, but not been able to run it. The first year I simply registered to get my name in the lottery (after being rejected 3 years in a row, you are automatically in the 4th year).
Lucky for me, I got in the first year, but we already had vacation plans. The second year, I ended up with a stress fracture in my tibia – the first real injury I had. The third year, I ended up pulling my hamstring during a half-marathon 4 weeks before the race (the week after my first 20 miler of training!). I wish I could say I was healthy going into the marathon the 4th year, but I actually pulled my hip flexor while riding my bike about 5 weeks before the race. Of course. This was the race of doom for me, but I was able to recover, get it one semi-long run, and run the darn race! Kirk, having finished his Ironman in July and raced another Half Ironman in October, decided to run with me (he is MUCH faster than me).
The NYC Marathon was my favorite marathon so far, although not a PR (personal record). The atmosphere at this race is amazing – people lining the streets for the entire race, often 3-4 people deep. It is such a fun experience and I will definitely run it again. I had some GI issues and the some other aches/pains during the race and we limped in around 4:24 – hand-in-hand and happy to be done. It was really fun running together and Kirk actually massaged my foot that was hurting mid-race!
To be continued…
**********************
Missed any of the 4-part Couch to Ironman series? Check out the links below!