I mentioned last week that Kirk and decided that fancy occasions weren't needed to enjoy a pairing dinner at home. We did this for the first time on Valentine's Day this year and it's something we talk about a lot. Since we love to cook and love to eat, why wait until the next holiday?
So we're thinking that this might be fun to do seasonally…starting with the Fall! We switched up the courses we were each responsible for this time:
Amuse Bouche: Kirk
Appetizer: Heather
Entrée: Kirk
Dessert: Heather
And of course we created a menu for our dinner: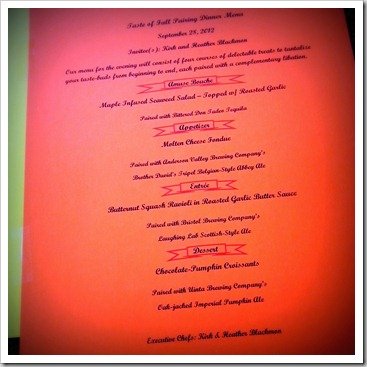 Today we'll talk about the Amuse Bouche: Maple-Infused Seaweed Salad, topped with some beautifully sliced roasted garlic! I could eat an entire head..or two..of roasted garlic without a problem. Love this stuff!
The funny thing is everything is this dish was already in our pantry. We have an strangely wide variety of seaweed in the pantry, just waiting for a creation like this.
Maple Infused Seaweed Salad
Author:
Ingredients
2 cloves roasted garlic
1 teaspoon Braggs
1 teaspoon agave
1/8 teaspoon maple extract
2 teaspoons arame
1 teaspoon wakame
Instructions
Rehydrate Arame & Wakame according to package directions. Lightly chop together.
Combine Bragg's, Agave, and maple Syrup. Top rehydrated seaweeds with mixture and divide between two chinese soup spoons. Top with sliced roasted garlic.
See those shot glasses in the background? Those are a very simple drink that pairs so well with the seaweed salad. Make sure you choose a high quality tequila, because this is a sipping drink (not a shooter!).
Maple Infused Seaweed Salad
Author:
Ingredients
40ml añejo tequila
6 drops Angostura bitters
Instructions
Pour tequila in shot glass and add drops of tequila. Swirl lightly in glass to combine.
And that wrapped up the first course of the evening! Three more courses and recipes to share with you from this fun night of food. 🙂
***********************
Questions for you:
Do you love to cook or would you rather go out for dinners?

When was the last time you did something special for no reason?

Tequila – good or bad?