As part of my new training plan, I'm moving back to more frequent small meals – instead of 3 meals a day. I've done this a few times in my past and there's always an adjustment period while I get in a rhythm. Right now I feel like I'm always eating…which isn't really a bad thing, but that does mean extra meal prep time.
Keeping that in mind, I decided to CREATE a simple creation for blueberry week on Meatless Mondays from A-Z. It's only 4 ingredients, which translates to a very quick and easy recipe! The end result is really pretty, so it looks like a fancier treat than it is. I do like my food to look pretty, I think it helps it taste better.
The nice thing about making your own flavored yogurt, is you are in complete control of the ingredients. You could easily swap the blueberries in this recipe for any fruit flavor you want! And you can add or subtract drops of stevia to adjust the level of sweetness. Simple, but delicious!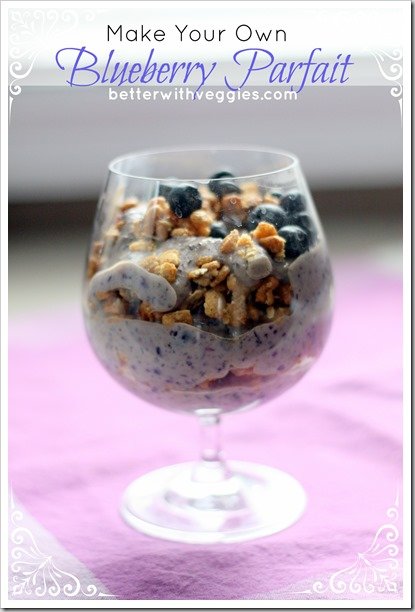 Make Your Own Blueberry Parfait
Author:
Ingredients
3/4 cup unsweetened plain organic soy yogurt
3/4 cup blueberries
18 drops vanilla stevia
1 cup 365 Berry Flax Protein & Fiber Crunch cereal (or granola)
Instructions
In a blender or food processor, mix blueberries for a few seconds to chop up. Add soy yogurt and mix until combined. Add stevia and mix well.
In a glass or bowl, alternate layers of blueberry yogurt and cereal. Garnish with granola & blueberries. Admire for a few seconds…then eat!
[Tweet "Make your own blueberry parfait with this simple #recipe. #dairyfree"]
If you're not familiar with the cereal I used in this recipe, it's the store brand at Whole Foods. I'm sure there are similar cereal options, just look for one that has a little more protein and ingredients that you recognize (instead of lots of chemicals).