For this week's WIAW, I'm going to share my experiences with eating a plant-based diet on my Celebrity Cruise last week! This was our 12th cruise, but my 1st after changing my diet. I was really nervous about it, but was determined to make it work (and still be really fun!).
We started things off on a great note with our complementary bottle of sparkling wine for being loyal cruisers!
After watching Miami shrink into the distance while sipping on sparkling wine, it was time to get to eating!
We chose Celebrity based on reviews we had read about their vegan-friendly food & this description from their website:
Sounds great – a separate menu, so I don't have to customize all my meals and can just relax. And with a 14 day menu, I should have plenty to choose from. Right?
Not exactly.
What actually happens is you preview the next evening's dinner menu and customize an offering from that list. In most cases, this means choosing the vegetarian option an asking them to remove the butter, cheese, milk, etc.
The Good
I had some really delicious soups over the 5 nights. I had the mushroom soup several nights and it was very flavorful.
The last night I had this Tomato Carpaccio with Olive Tapenade – delicious!
Several different sorbet offerings:
A few interesting dinners. The one on the right was a barley risotto with a balsamic reduction and was fantastic!
And a few interesting desserts, including: warm plums with raspberry sauce and an eggless custard.
Around the ship, we found several vegan-friendly snacks to much on from time to time. Vegetable sushi was brought on the appetizer tray for me in the Elite lounge.
Hummus & Olives from the tapas bar:
There was also a sushi buffet every evening serving two types of veggie sushi and vegetarian miso soup.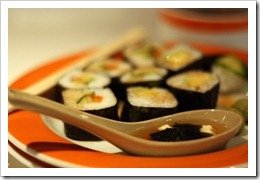 The Not-So-Good
The not-so-good came a few days into the cruise. I think the maître d' and I had a bit of a misunderstanding the first evening on the cruise. He offered to place a standing order for a hot soup, veggie curry, and veggie stir-fry to give me options at dinner each night. Great idea! then I can choose from the menu or have those options to fall back on. I went with the standing order items the second night, because they sounded good! Not thinking about it, we didn't preview the menu the second night – I didn't realize how important that was.
At dinner the third night, the only thing available for me was the same standing order options – they weren't able to customize the vegetarian items on the menu that late. They tried to bring me something else that would work, but I didn't want to eat a dry baked potato & steamed veggies – I needed some type of sauce to make that palatable.
I went to bed a little hungry that evening and learned that reviewing the menu the night before is KEY to enjoying vegan-friendly food on a cruise.
The next morning, I woke up hungry and couldn't find anything good on the buffet for breakfast that met my needs. Being already hungry from the night before, I got a little grumpy (understatement of the year!). Fortunately, Kirk knew what was going on and spoke up for me. There are signs all over the buffet that you should ask for the assistant maître d' to walk you around the buffet if you have any dietary needs. He got the assistant maître d', who called over the sous chef. After explaining I was looking for no meat, no dairy, and no eggs – the chef himself said there was really nothing like that for breakfast. Now that's not really true. I had oatmeal (prepared with water), fruit, smoothies, and miso soup – but I didn't want the same thing again.
Thankfully, the conversation didn't stop there. He asked what I ate at home and I explained that I ate normal breakfast foods, but made with non-dairy butter & non-dairy milk (which they don't have). Then I thought of tofu scrambles! I explained what was in a tofu scramble, how to prepare it, emphasized the no butter, and had a seat to wait while he went to prepare them for us.
About 30 minutes later, this delicious plate of tofu scramble (tofu chopped?) was delivered to our table…and it was delicious!!
Now that I've taught them my favorite breakfast, we added it to our breakfast room service form (with the sous chef's name who helped us) and had a HUGE breakfast on our balcony watching the ocean!
In addition to another tofu scramble, we enjoyed several plates of fruit and two types of smoothies made with soy milk.
The moral of the story?
There isn't really a separate vegan menu on Celebrity – believe me we asked everyone and it doesn't exist.
You CAN get good vegan meals at dinner, but you will want to review the next night's menu each evening and explain what changes you would like made.
The staff tries REALLY hard to help you get what you need!
Ask for what you want – and be prepared with recipes of what you like. I think I'll bring a few others with me next time and see what happens.
And that was What I Ate on my cruise!
What WIAW isn't about

Comparison – Judgement – Restriction – Guilt

What WIAW is about

Celebrating one of the glorious things we all have in common: We all eat!

WIAW is about food and fun! It's about making new friends, breaking out of a food rut, inspiring yourself & others, embracing fruit & vegetables, finding new ways to eat your favorite foods, and so much more <3

Celebrate blogging. Celebrate Food. Celebrate Individuality.
WIAW is hosted by Jenn of  Peas & Crayons – make sure you hop over there to see all the fabulous eats bloggers shared this week!