For the second time ever, I live in a city where our team was in the Super Bowl. Apparently, I am bad luck for my hometown team, as the Broncos lost last night. In 1998, the Falcons played the Broncos in the Super Bowl when I was living in Atlanta. In case you don't remember that one – the Falcons lost that game too. Sorry Broncos. I at least tried to support the team in my best #UnitedInOrange gear. Wearing orange is always hard for me, since all orange is bad when you're a UGA Dawgs fan.
After the game, I whipped up my second batch of Sarah's (aka Miss Whisk) Cinnamon Sweet Potato Protein Ice Cream. I made my first batch earlier in the week, but I didn't think anyone wanted to see #MMAZ pictures of this creation in Tupperware. So I happily planned this treat for this week's meal plan, as well! I'm actually getting much more comfortable with repeating meals recently – it saves a little time when I'm busy snowboarding for much of the weekend.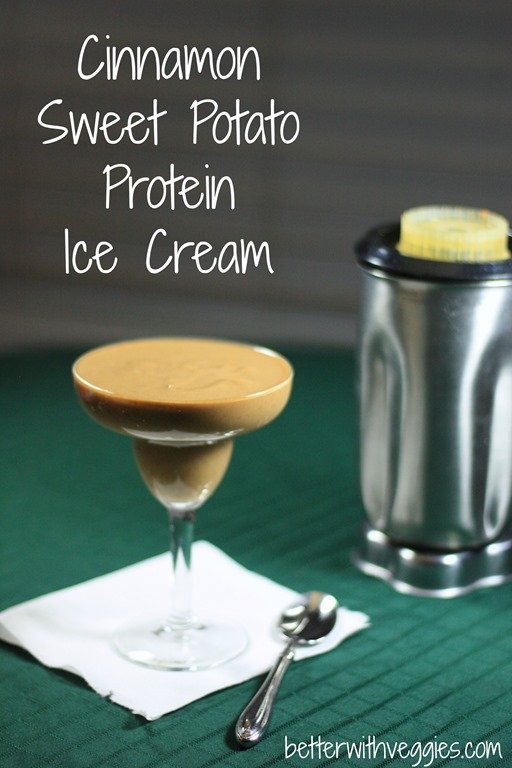 I don't actually have a Vitamix blender, which Sarah recommends, but I do have a heavy duty beverage blender that we got for our wedding (over 12 years ago and going strong!). My blender isn't quite as cool as the Vitamix sounds, but it did the job. It takes a bit longer to mix, so the result is a little more liquid than ice cream. I transferred it to Tupperware and put it back in the freezer to set up.
The result is closer to a semifreddo (a semi-frozen dessert), but I love that texture and the flavor is fantastic. I planned this one for a mid-morning snack last week and can't wait to enjoy it again today!
Ready for the recipe? Head over to A Whisk and Two Wands to get all the details and add it to your own meal plan for the week! The only change I made to the recipe was to use 2 teaspoons of cinnamon, because I love the flavor of cinnamon.
And now it's the time to see what others cooked up for this week's challenge! In case you are new to MMAZ, the goal is to cook a meatless recipe that features the week's key ingredient (in this case – potato). preferably one of the recipes created for last week's #MMAZ linkup. If you join the fun, make sure your visit at least a few other participants to help build our little community and share the wealth:

********************
Questions for you:
Who did you cheer for in the Super Bowl last night?
Have you made ice cream or semifreddo at home?