Happy Monday friends!! It's been a whirlwind weekend here, which started in Australia, a short trip back home to Atlanta, and finished late on Sunday night back in Denver.
Before I catch you up n my weekend, it's time to announce the winner of the Banjees giveaway! Click here to check out the updated post and find out if you're the winner! If you are the winner, send me a quick email with your address & which Banjees you would like. 🙂
Friday
Friday night we had a final dinner in Australia at Cafe Sydney. The view alone made this restaurant worthwhile – a panoramic of the bridge & opera house. I'm telling you, I could stare at that view and never get tired of the beauty! Great wine selection & a vegan menu made the experience even more amazing. I wish I had photos to share, but we went straight from the office and I didn't have my camera with me. The lighting was pretty poor for photography, so no camera phone shots other than this menu: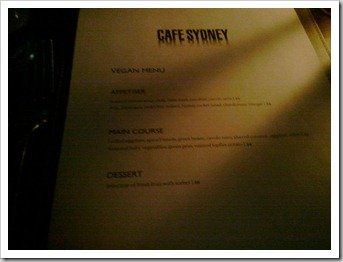 I did get a photo of Luna Park at night, which we have renamed "creepy clown park"!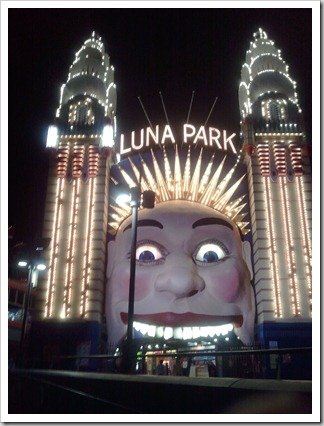 Saturday
On Saturday morning, my co-worker's husband met me at the hotel for a 8 mile run around Sydney. He's a faster runner than me, but graciously offered to keep me company and show me around. It's been so long since I've had a running buddy and Mike was a wonderful tour guide! We crossed the bridge (on the correct side), circled the Opera House, ran around the botanical garden, through downtown, back over the bridge, and skirted the harbour on the boardwalk. I have a new favorite running route – this tops my previous favorite run in San Francisco easily!
I finished the morning with a grocery run to stock up on Vegemite. I think the cashier thought I was a crazy American when I bought 5!! 🙂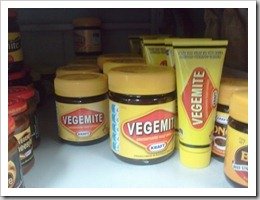 Saturday afternoon was the longest ever. I boarded the plane at 1:30pm, landed in Los Angeles at 10:00am (travelled back in time), and arrived in Atlanta at 7:00pm. It was weird and confusing, I kept thinking it was Sunday. My sister and her boyfriend were in town and we spent the evening chatting (I stayed awake until 11pm – so proud of myself!).
Sunday
Sunday morning I sorted through piles of packing donations & trash that Kirk created while I was gone, went to church, and then prepped for my Mom's surprise party!! Her birthday is actually next month, but it was the perfect time to really surprise her and celebrate while the whole family was in town! We had burgers/dogs, buffalo chickn dip, spinach & artichoke dip, fruit & fruit dip, peanut butter chocolate cake (based on these cupcakes), and rhubarb crumble.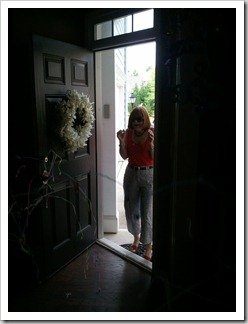 My sister did a great job decorating the house while we cooked the food and it turned out great! My mom was really surprised by the house full of family & friends when she came over for an early dinner. 🙂
As the party wrapped up, I finished re-packing my bag and headed back to the airport for a late-night flight to Denver. I have new employee orientation Monday & Tuesday, so I needed to be back in the area earlier than a Monday morning flight allows.
It's a good thing I know how to adjust to time zones quickly, right?!
I know you are all probably ready for new recipes or fitness tips, so I hope to be able to share something new with you soon. As always, let me know if you have any requests and I'll do my best to accommodate! =)
********************
Questions for you:
What is your favorite party food? We're having a farewell party next weekend and I still need to plan the menu!
Any Runner's World Streakers still going strong?