Many of my favorite dinners start with a tasting menu and last night's Valentine's Day dinner was no exception. I don't think I've ever had a menu for our dinner at home before, but we might need to do this more often!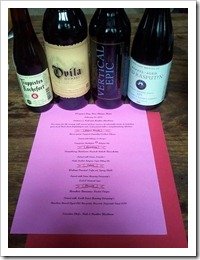 As I mentioned on Monday, we created our own beer dinner this year. We each picked two courses and were in charge of creating a dish plus beer pairing. I cheated just a little here, because Kirk went to pick up the beers on Monday while I was grocery shopping, so he was more involved in picking the right beers than I was. 🙂
Before we get to the dinner, we started the day with these delicious donuts (after our trainer ride, of course). Mama Pea's Smoked Sea Salt Kissed Maple Donuts were very tasty and much easier than I would have expected!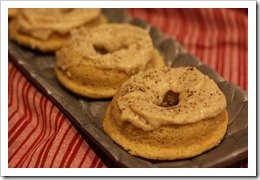 Our menu for the evening will consist of four courses of delectable treats to tantalize your taste-buds from beginning to end, each paired with a complementary libation.
Before the real meal started, we had a small drink to enjoy while we cooked. Kirk had been soaking raspberries in a small jar of moonshine for a while and we finally gave it a try. Much better than the original!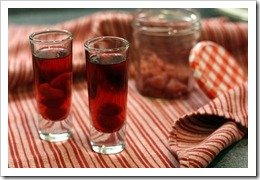 Micro-green Topped Friendly Cashew Cheese
Paired with Abbaye St-Remy's
Trappistes Rochefort
Belgian Ale
The Amuse Bouche was the first of my dishes. I finally made a hard (vegan) cheese, infusing it with truffle oil and chives for extra flavor. Served in a Chinese spoon and topped with truffled mushrooms, walnuts, and chives. This dish evolved a little during the cooking, so the original title does not exactly match the result. This one bite (or two, in my case) tease turned out fantastic and I can't wait to use this cheese in other dishes!!

Strawberry-Heirloom Radish Relish Bruschetta
Paired with Sierra Nevada's
Ovila Dubbel Belgian-Style Abbey Ale
The appetizer was the first of Kirk's dishes. The radishes were fresh from our garden and the spicy flavor contrasted nicely with the sweetness of the strawberries & blueberries. The toast was topped with a balsamic & fruit reduction, before the greens and fruit were added to the top. Paired with the Ovila Dubbel, it made for a nice combination – and the larger bottle size gave us some time to sit and relax before we moved to the entrée.
Walnut Crusted Tofu w/ Spicy Aioli
Paired with Stone Brewing Company's
11.11.11 Vertical Epic
Next was my Walnut Crusted Tofu, which I trialed last week and only slightly tweaked for this meal. Served over a spicy kale salad and topped with sriracha aioli – yum! The aioli isn't really needed, but adds a little extra kick for those of us who love spice. This tasted good last week, but taking the time to press and marinate the tofu a bit longer today made it even better!
Bourbon Bananas Foster Crepe
Paired with North Coast Brewing Company's
Bourbon Barrel-Aged Old Rasputin Russian Imperial Stout XIV
And finally, dessert! Kirk whipped up a Bananas Foster Crepe and even flambéed a bourbon sauce for the topping. This paired with the Bourbon Barrel-Aged Old Rasputin was the perfect ending to a wonderful meal!!
And that's a quick recap of our amazing Valentine's Day Dinner at home. I think we may have to make this a tradition, it was so much fun and I can't imagine a better meal even if we had gone out!
And don't worry, I'll be sharing these recipes soon!
How was your Valentine's? What was your favorite part of the day?