Thanks so much for all the complements on Tuesday night's dinner. We had such a great time creating recipes & cooking – it really was a fun evening. I have learned so much over the past year in the kitchen and challenging myself to get more creative, it was fun to feel comfortable planning & preparing a meal like that!
Over the next week (or so), I'm going to share the recipes that we used to create that dinner. My hope is that you'll give some of these a try or be inspired to create some of your own!! First up is the Amuse Bouche – Microgreen Topped Friendly Cashew Cheese, which I've renamed to Truffled Friendly Cashew Cheese.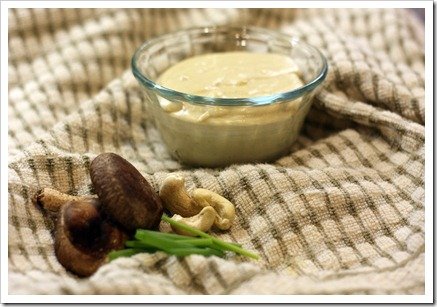 This is not a recipe I can take credit for, but I can encourage you to try it out!! The cheese came Ann Gentry's Real Food Daily recipe for Vegan Cashew Cheese. I cut the recipe in half (I didn't get enough Agar Agar for the full batch) and made only two small tweaks. During the final food processing, after blending all ingredients, I added 2 teaspoons of truffle oil and about 2 tablespoons of chopped chives.
For the presentation, I transferred the cheese into several ramekins for refrigeration. Then I scooped the spoons into the cheese and cleaned off the excess to leave a nice smooth mound. I refrigerated for about 30 minutes, until we were ready to eat. Meanwhile, I sliced two shiitake mushrooms and 4 walnuts, covered in a light coating of truffle oil, and let sit on the counter until ready to serve.
Tip: This cheese sets up really fast, so make sure you are prepared to move when you finish blending and start transferring to containers.
Before serving, I toasted the mushrooms & walnuts in our toaster oven on 350 degrees for 5 minutes and added these to the top of the cheese. A few extra chives were the final touch for some color.
Tada – beautiful and delicious amuse bouche to start the meal off right!
**************************
Questions:
What are your favorite kind of mushrooms?
Have you ever made your own cheese before?
Do you like Amuse Bouches or are they too small of portions for your liking?