Happy Monday everyone!! Today's a special day, because it's the first day at my new job. I'm really excited and a little nervous, but so ready to get started on this new adventure. I'll be in Colorado this week and my plan is to try to post M-F as usual, but please excuse me if life gets crazier than expected this week and I miss a day or two.
**********
But before the week gets started, I wanted to share with you a brand new product from Vega. You guys know I loveVega – one of my favorite sports nutrition companies and the company I personally use for my multisport training & race nutrition.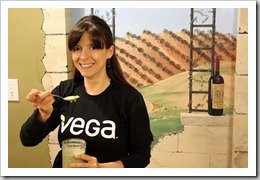 Recently, they sent me a few samples of their newest product – the Vega Energizing Smoothie. The smoothies come in 5 flavors: Bodacious Berry, Choc-a-lot, Oh Natural, Tropical Tango and Vanilla Almondilla flavors.The smoothie is intended to be an easy, on-the-go option for nutrition. From their website:
One serving of Vega Energizing Smoothie features

Two servings of veggies
10 g of complete, plant-based protein
5 g of fiber
1 g of Omega-3

Just add water, shake and go!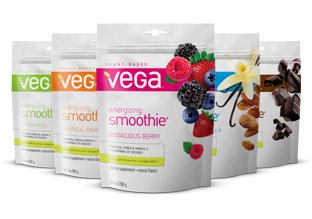 The first one I tried was the Bodacious Berry – I tried it as a light breakfast smoothie before heading out on a short morning run. The flavor was pretty good, but mixed with water it was still a little chalky. It did give me enough energy to complete the run feeling strong, without feeling heavy in my tummy, though!
Next time, I tried the Bodacious Berry mixed with almond milk to give it a little more weight for an after-work snack. I liked the flavor and texture better with the almond milk, but the chalky texture was still there for me.
I had a similar experience with the Tropical Tango & Choc-a-lot flavors mixed with water, so I decided to improvise a little more. We make smoothies for breakfast most weekday mornings, so we mixed the Vanilla Almondilla with Bananas and Almond Milk and THAT was a fantastic combination. The timing of this was great, since we were out of other fruits to mix in for flavor – the Energizing Smoothie was a wonderful addition and the extra two servings of veggies, plus 10g of protein was great for my breakfast smoothie.
On their own, with water or almond milk, they aren't my favorite texture. Mixed with some additional fruit, they are a great addition and amps up the nutrition! So, while this was not my favorite of the Vega products available, everyone's tastes are different.
I'll still be enjoying my favorite Vega Sport products while I ride & run this summer!
*******************
Questions for You:
Catch me up on your weekend – what was your favorite part?!