If you follow me on instagram (and you should!), you've seen some fun photos from Oktobefest in Colorado. We've been to two events already: one in Breckenridge and one here in Highlands Ranch. There was really no competition between the two, Breckenridge has got to be the perfect location!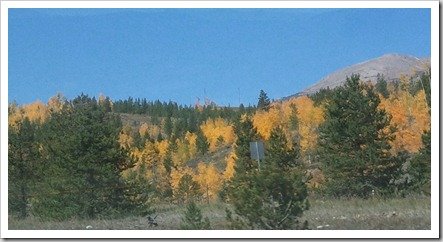 I know it's not Fall many places, but the color on the trees says it's really Fall here! We met a few friends work and enjoyed the beautiful day. Believe it or not, we started with wine. Toasted Head had a tent where they offered free tasting – and free is right up my alley!
We were able to sample two whites and two reds:
Untamed White
Chardonnay
Untamed Red
Cabernet Savignon
None of the 4 were anything to write about, but they were all easy drinking and would make decent everyday wines.
We went from wines to the real reason we were there – BEER! The festival was obviously sponsored by Paulaner, as their beers were the only available. Their Paulaner Oktoberfest & Oktoberfest Weisn were both pretty good and was perfect in our big beer stein.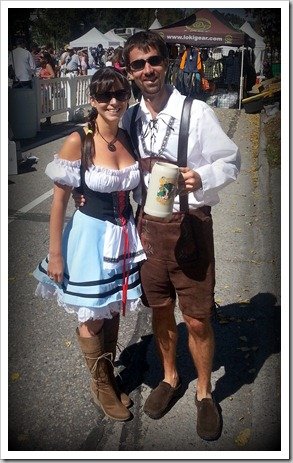 Did I mention we dressed up in our awesome Oktoberfest outfits? You too can be this cool – we got these costumes last year on BuyCostumes.com and they are not too expensive.
I even won a chicken hat from doing the Chicken Dance!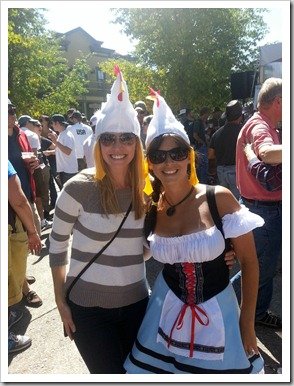 We ended our day by relaxing by the stream, a peaceful retreat from the business on Main St. Can you believe how gorgeous this setting is?!
There seems to be an Oktoberfest event near us for several more weekends, but we haven't made any firm plans for others at this point. We'll see how the weekends unfold!
********************
Questions for you:
Any Oktoberfest planned for this year?

When was the last time you were silly enough to dress up for a non-Halloween event?