I've been having fun making "fancy" breakfast at least once on the weekend recently. Sometimes fancy means a loaded tofu scramble, but after the race last weekend, I decided sausage gravy & biscuits sounded really good.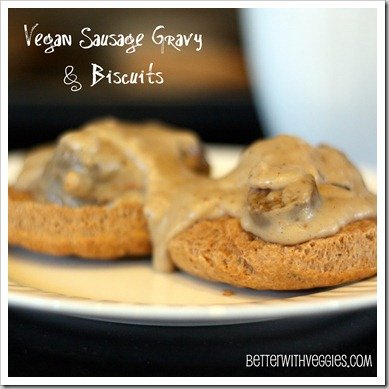 I've made a version of this recipe a few times now, but hadn't been thrilled with the biscuits. I decided to crack open Joy of Cooking this weekend for inspiration and found a recipe that was a little different than what I've tried before. After some tweaks, the results were exactly what I wanted!
Sausage gravy is pretty simple, but I really liked the extra depth of flavor the liquid smoke added to the finished product this weekend.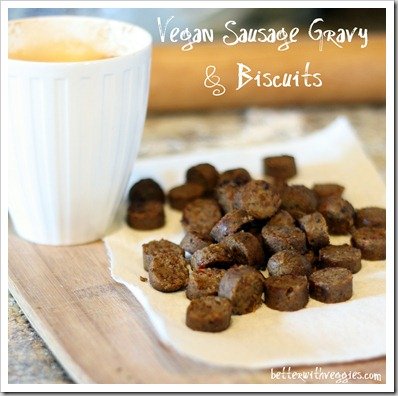 Enjoying a chai latte while cooking, while optional, sure makes the experience more fun!
Vegan Sausage Gravy & Biscuits
Cuisine:
vegan, vegetarian
Author:
Ingredients
+For the Biscuits
2/3 cup almond milk
1 tablespoon apple cider vinegar
1 2/3 cups whole wheat white flour
1 tablespoon baking powder
1/2 teaspoon salt
1 tablespoon pumpkin pie spice
1/3 cup extra virgin olive oil
+For the Sausage Gravy
4 links tofurky breakfast links
1 3/4 cup almond milk
1/4 cup whole wheat white flour
1 teaspoon liquid smoke
Instructions
+For the Biscuits
*Makes 6 biscuits; only 4 biscuits needed for this recipe*
Preheat oven to 450 degrees.
Combine almond milk and apple cider vinegar in a small bowl, set aside. In a medium bowl, combine flour through pie spice and whisk together thoroughly. Add extra virgin olive oil and mix until just combined. Add milk mixture and mix together until combined and dough has been formed.
Transfer dough to a floured surface and roll out to make a rectangle about 11 x 6 (you may need to roll out several times to get the shape & size you need). Fold in half and cut biscuits using a small circle (I use a small tupperware bowl). Place biscuits on a cookie sheet sprayed lightly with cooking spray, at least 1 inch apart.
Bake in oven for 8-10 minutes or until lightly browned.
+For the Sausage Gravy
Slice tofurkey breakfast sausages. Sauté sausages over medium heat in medium pan coated in cooking spray. Once browned, set aside.
Add flour to pan and slowly add almond milk, whisking constantly. Continue to whisk until sauce thickens, adding liquid smoke when almost finished. Add sliced sausage back to the pan and continue to cook until thoroughly heated.
Assemble
Pull or cut 4 biscuits in half and place face-up on plate. Pour gravy evenly over biscuits and serve!
This was a great treat to celebrate the completion of our first longer race in Denver…but don't save fun breakfast recipes like this for a special occasion. Any morning with a little more time is the perfect opportunity to enjoy this meal!
*****************
Questions for you:
Do you think about breakfast treats while working out?

Do you make "fancier" breakfasts often?

What did you have for breakfast on Saturday?