This weekend was exactly what I needed after a crazy week at work. Although our trip to the Olympic Training Center was incredible, it also meant work piling up while I was away and only a few days to catch up. Thanks goodness for the weekend!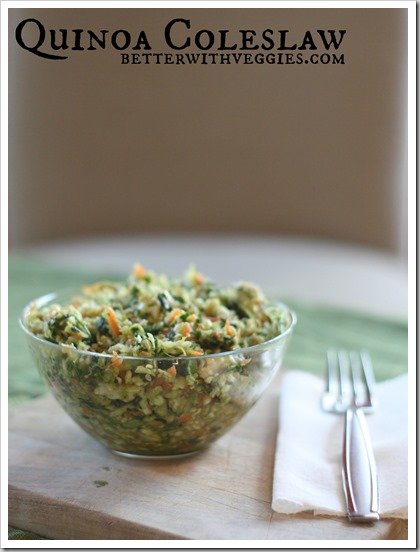 I purposely planned a quiet night at home on Friday to recover and catch up on blog reading. Saturday was a fun & active day, including 12 miles of hiking and an incredible sushi dinner. Sunday I got a chance to catch up with Kim for beer and welcome Lauren to Colorado. It was the perfect blend of quiet and friends!
Sunday night I finally got a chance to create a new recipe with cabbage. I stuck with my recent trend of simple meals, using what I had in the house already. The result was a blend of quinoa salad and coleslaw – two things I enjoy on their own, so why not mix together?!
This is a great light mix for spring (and summer) when you don't want anything heavy to weight you down. It's surprisingly filling…even more so when you munch on cabbage and carrots while you make it, I guess. 😉
This is a simple meal, but it works best if you have a food processor with shredding disc and rice cooker. If you don't, just use a grater for the veggies and a pot of water for the quinoa.
Quinoa Coleslaw
Keywords: bake side snack brunch nut-free soy-free sugar-free vegan vegetarian quinoa
Ingredients (4 servings)
1/2 cup quinoa, uncooked
1 cup water
1/4 head of cabbage (about 1 cup)
6 baby carrots
1/2 bunch kale (about 1/2 cup)
2 teaspoon nutritional yeast
1/2 avocado, diced
2 tablespoons Liquid Aminos
2 teaspoons apple cider vinegar
1 tablespoon Vega Omega Oil Blend
2 teaspoon sesame seed
Instructions
Rinse quinoa and transfer to rice cooker. Add water and cook.
Meanwhile, feed cabbage, carrots, & kale into food processor with shredding attachment. Transfer to medium bowl.
Mix together oil through nutritional yeast. Drizzle over veggie mixture and stir together well. Allow to marinate for at least 15 minutes.
Stir quinoa into coleslaw mixture. Sprinkle with additional nutritional yeast, if desired.
Don't be afraid to adjust the amount of ingredients in this recipe, it's an easy one to adjust to your taste. If you really like carrots – add more. Add more quinoa to make this an entrée for lunch or dinner.
And now it's time to see what everyone else has created for cabbage week. I'm excited to see what recipes I have to choose from for next week's COOK week!
********************
Questions for you:
What was the best part of your weekend?
Do you like to plan down time in your schedule after a crazy week or do you prefer to stay busy?