Do you have business cards? Whether you have a small business, home business, blog, or whatever you want to advertise – I think business cards still make sharing your message easy! Before I went to Blend at the beginning of the month, I wanted cards to hand out to my new friends during the weekend. I felt that I missed out when I was at FoodBlogSouth and was determined to NOT make that mistake again.
Around the same time, I was offered a perk on Klout for 50 free business cards with MOO, a unique printing company. Why are they unique? Here's the explanation I like from their website:
'Printfinity' is MOO's option of printing a different image on every card in the pack. Use it to show off your portfolio, your products or your range of skills. It's a great conversation starter helping people to remember you, and your business.
Their site allows you to upload any number of unique images, which you can choose to use on their business card templates. For me, I chose 4 images that filled the backs of my cards. From left, clockwise, they are:
This gives you a unique opportunity to give your new friends a choice when you pass out a business card – which one would you like? I literally spread out the options like a deck of cards (which is a conversation starter on its own). It's fun in a dorky way!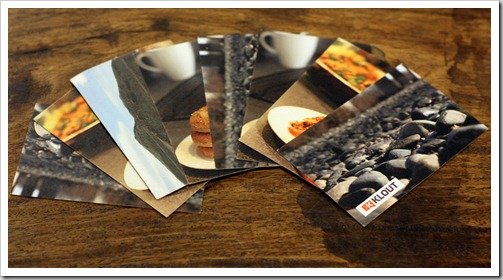 Depending on the person and their interests, they choose the card that best fits them.
I really just got these cards because they were free, but I LOVE them. I'm already designing my next set, which will include a QR code (like Janetha's, which I LOVE!) and more information about our coaching services. I love having a way to pass along my info, without having to find a scrap of paper.
I was not compensated in any way for this post, other than the Klout perk that allowed me to try the cards out. MOO has no idea that I exist (as far as I know) and they do not know that I am writing this post.
*******************
On a different topic, we're headed to Colorado this weekend! I'm so excited that we are getting a chance to start the house-hunting process (in person) and some time to relax in our new state. We're staying at a rental we found on VRBO.com, which I'm super-excited about. It's one of the last weekends we get to take advantage of our awesome housesitter/petsitter – anyone know of a good one in the south-Denver area? Expect Colorado recaps and moving updates next week!!
*******************
Questions for you:
Do you have business cards?

Do you like getting other people's business cards? What catches your attention the most?