It's Wednesday – we're halfway through the week! And I'm especially excited to be halfway through this week, because
this weekend is BLEND
!!!! You might remember that I registered for this
awesome retreat
way back in February, so I can't believe it's finally here.
Just a few more days of work, then I'll be on a plane to Colorado with
Laura
&
Tina
, to see Lindsay again, and meet a
whole bunch
of awesome ladies in person.
If you can't tell, I'm extremely excited!
It's going to be like our post-Publix half marathon brunch, but on steroids!
************************
Quick Reminder: The 20% discount on race plans & 2 months of coaching is available through Sunday. Click here for full details on coaching options (starting at $50 for 8 week race schedule & $40 for monthly coaching).
************************
With all the excitement going on, we can't forget that it's Wednesday! I've only missed one WIAW party this year and I don't want today to be the second. 🙂 This week, I thought I'd share a round-up of my favorite eats over the past week.
—-What WIAW isn't about—-

Comparison – Judgement – Restriction – Guilt

—-What WIAW is about—-

Celebrating one of the glorious things we all have in common: We all eat!

WIAW is about food and fun! It's about making new friends, breaking out of a food rut, noting changes in your diet/lifestyle, inspiring yourself & others, embracing fruit & vegetables, nourishing your body with the foods that work for you, finding new ways to eat your favorite foods, and so much more <3

Celebrate blogging. Celebrate Food. Celebrate Individuality.
[Cause over here, we like to party!]
Only one photographed breakfast this week (1), but it's a great example of healthy eating on the road. I ordered a bowl of oatmeal from room service and requested they swap the milk for water (all I had to do was ask). With peanut butter, brown sugar, & raisins mixed in – a tasty and filling breakfast. Served with fruit on the side!
Snack:
I had to snap a photo of my huge plate of fruit & veggies (2) from USAT training on Sunday. Those guys really knew their audience with a huge spread of fruit & veggies to choose from, I really piled my plate high. Only dairy-based dressings, but these were so flavorful it didn't matter!
Dinner:
On our way home from Alabama, we stopped by Soul Vegetarian for a late-night dinner. It literally took us 30 minutes to find the restaurant once we were there, but the food was great! We ordered the Kalebone sandwich (3 – basically roasted seitan) and a vegetable plate (7 – collards, sweet potatoes, mac n cheeze, & cornbread). The Kalebone sandwich was outstanding!! The veggie plate was good, not a ton of flavor, but good. I would definitely go again – I need to try their desserts (they were out).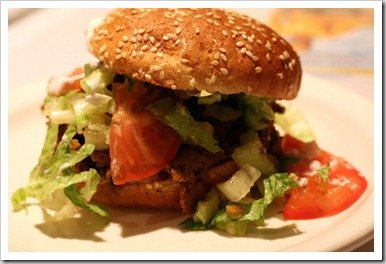 Our other two dinners were both on-the-fly creations, just looking for what we had in the fridge. This is what happens when we don't make time for grocery shopping.
Sunday night we made Roasted Pineapple Tofu & Risotto (4), served with a green salad w/ spicy pickled mushrooms, peppers, and a tahini creamy dressing. So happy Kirk was able to fix our oven, so we can bake again!
Finally, our Monday night "we still haven't gone grocery shopping" creation – sautéed onions & mushroom covered veggie burger, served over cheezy potatoes & spicy sauce. Very random use of leftovers, but very good. 🙂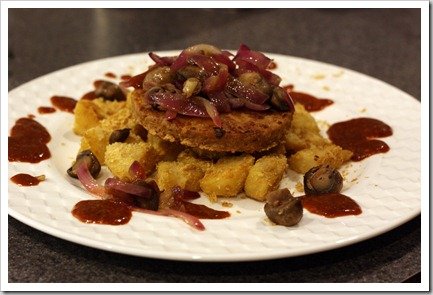 Don't worry – we went to Whole Foods last night and stocked back up food. I hadn't made a shopping list, so we were creative while gazing at food. We restrained ourselves from buying everything in sight much more than I expected. 🙂
********************
Questions for you:
Do you have an upcoming event you're counting down until?

What was the most creative or weird thing you ate in the last week?

What is your favorite thing to eat off the Whole Foods hot bar? =)