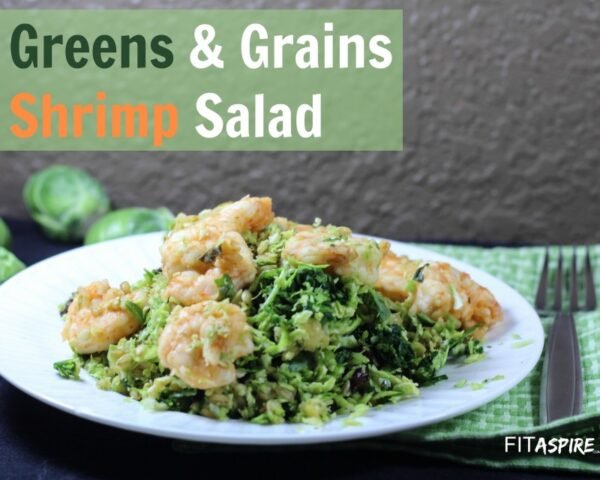 It's been quite some time since I've felt inspired to get in the kitchen. I eat so much food right now with bulking season in full swing that food is not often appealing. It's something I just have to eat to build muscle. The thought of creating a new recipe has been hard to fathom. I continue to be grateful that Kirk has been picking up the slack in the kitchen! 
This past weekend I was on my own. Kirk had to work through the weekend out of town and I headed to the mountains as a solo traveler. It was relaxing and fun – just what I needed after a week of travel myself. My lunch on Saturday at Beaver Creek inspired this dinner creation. A huge bowl of grains and greens, featuring my favorite brussels sprouts shaved into the salad. 
Once I got home on Sunday night, I knew I wanted to create something similar in the kitchen. I defrosted a portion of Sizzlefish (affiliate) shrimp from the freezer and picked up the rest of the ingredients to create the dish. Don't let the ingredient list scare you off – this took me no more than 45 minutes from start to finish – including the time to cook the grains and marinate the shrimp!
For my vegetarian friends, just skip the shrimp to make a delicious plant-based dinner. You may want to increase the amount lentils, if you are looking to up your protein.
Greens & Grains Salad
Author:
Ingredients
1/2 cup red lentils
1/2 cup farro
1 1/2 cup water
1 cup lime juice
1/4 cup sriracha
2 teaspoon ground ginger
4 garlic clove, finely diced
4 servings shrimp (I use sizzlefish)
2 cups brussels sprouts, trimmed
1 cup baby kale
1 cup baby spinach
1/2 cup cherries
2 tablespoons dijon mustard
1/2 cup rice vinegar
2 tablespoons extra virgin olive oil
1-2 garlic cloves, finely diced
2 teaspoons lime juice
Instructions
Combine lentils, farro, and water together in a rice cooker and cook according to package directions.
While cooking grains, combine lime juice through shrimp in a small bowl. Marinate for at least 30 minutes.
Using a food processor and shredding blade, shred the brussels sprouts, kale and spinach. Stir in cherries.
Pour shrimp and marinade into a saute pan and cook over medium heat for 5 minutes, flipping once to cook evenly.
Combine lentills and greens together. Divide evenly onto four plates or bowls and top with one serving of shrimp.
Prepare vinaigrette (optional): Mix together dijon mustard through lime juice. Drizzle over shrimp.
Another option for preparing the veggies is to shred the brussels sprouts, but just chop the kale & spinach. This would produce a thicker salad base and more variety of texture. Either way, I think you'll be surprised at how filling this dish is – all those veggies and nutrients really pack a punch.  
[Tweet "Cook up a veggie packed #dinner tonight – Greens & Grains Shrimp Salad. #recipe"]
Hungry for more pescatarian recipes? You can browse more creations in my recipe archives.
*******************
Questions for you:
What's your favorite green veggie?
Have you ever gone away for the weekend as a solo traveler?