Last month, I shared with you my experience at getting fitted for a sports bra as part of Title Nine's #Bravangelist campaign. For the last month (plus), I've been putting my new sports bra to the test with plenty of running and I'm finally ready to share my thoughts with you. Plus a giveaway for YOU at the end of this post!
Disclosure: This post was sponsored by Title Nine. While I was compensated for this campaign, all opinions are my own. You can read my disclosure policy here.
As I mentioned in the first post, the 3 Reasons Support Bra (by Moving Comfort) is the one that fit me best. It has a great mix of support, comfort, and fashion – it's even featured in my new profile photo on this website and all over social media. The Hawaiian scenery didn't hurt, either. 
I've found that I'm doing the laundry more frequently to make sure this one is clean – especially for longer runs. It doesn't slide on my shoulders and holds "the girls" in place better than any other sports bra I own. In fact, I just ordered two more (in different colors, of course) to make sure I have one for most of my runs. It really does make a difference!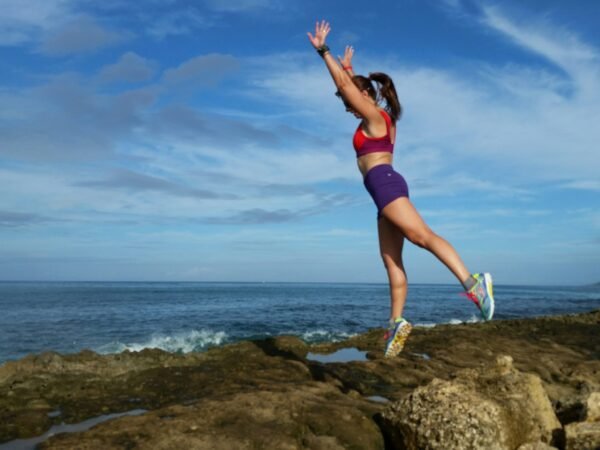 From talking with other women over the past few months, I know that people avoid running (or high impact exercise) when they haven't found a sports bra that fits comfortably and supports well. I don't want that to be the reason holding YOU back.
Don't accept that you can't find one that works for you, take some time to seek out one that works! If there isn't a Title Nine store near you, try the Bra Genie online tool for guidance.
[Tweet "Don't accept discomfort – there is a sports bra that will work for you! @TitleNine"]
Win a $100 Gift Card
Now that I've shared how amazing it is to have a sports bra that fits, would you like one of your own? One winner will get a gift card for the Title Nine bra of their choice. The giveaway will be open for just one week – so enter now!