Triathlon races are known for many things. The early start, lines of people waiting to have strangers write on their body with a black marker, the friendly participants, and the long list of gear you bring to the starting line. Unlike running, this is a sport that requires a lot of stuff!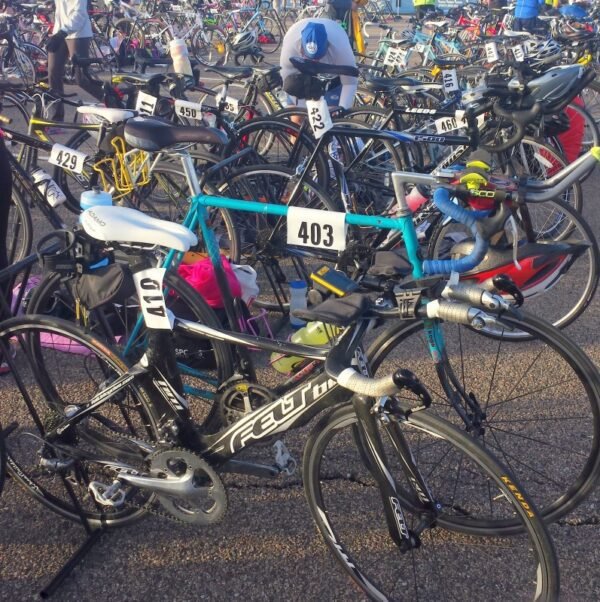 With all the excitement and nerves of race day, you don't want to forget something important. This is where a good list can be a life saver. Just check off the items as you pack them in your transition bag (which is also on the list), so you'll be sure you have everything you need!
What makes this checklist the BEST?
I created this triathlon race checklist based on over 10 years of racing and coaching. It's been tested in races of all distances – from sprint through Ironman. You'll find a few things on this list that may be missing from others:
Nutrition (including pre-race and recovery!)
Race Directions
Post race clothing
And even moist wipes — it feels amazing to wipe the salt and sweat off your face and body after a hard race.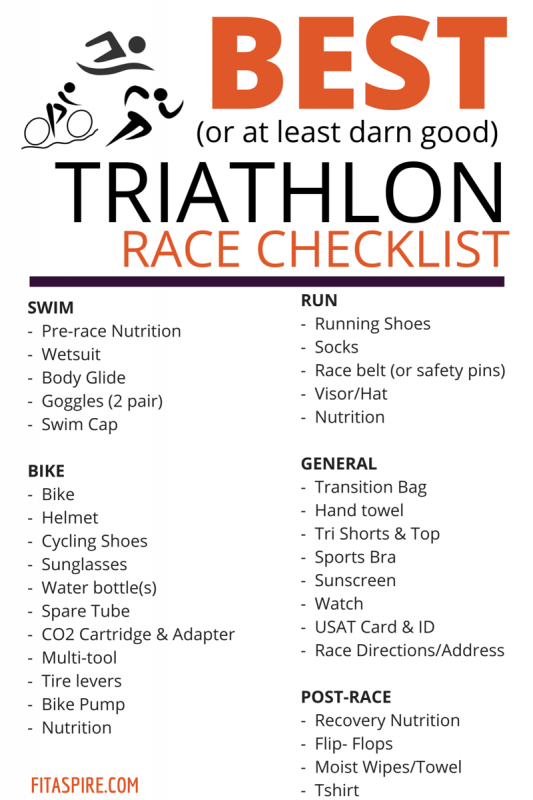 What's missing from this list?
You don't need to bring your entire house to the race, so you'll notice some things that are purposely left off (which I have seen on other lists). You don't need a bucket of water to rinse off your feet – use your towel to wipe them off before the bike.
Speaking of towels, this list specifically lists a hand towel. Leave the beach towel at home! Be considerate of others and don't take up more space in transition than you need. A hand towel seems to be the perfect size in my experience.
Of course, you may have a special item or two that makes you feel most comfortable. You can certainly add to this list and make it work the best for you.
[Tweet "Don't miss a thing with the BEST #triathlon race day checklist! #FitFluential"]
Now you're ready to pack your bag and head to the race!
Editors Note: This post was originally published in May 2012 and has been revamped and updated for accuracy and the latest information.
********************
Questions for you:
Experienced multisport athletes: Any other items you would add to this list?

Aspiring multisport athletes: Have you signed up for your first race yet?
If so – which race & when?

If not, what's holding you back?