This weekend was just about perfect! It included dinner with old & new friends, a beautiful bike ride outdoors around Chatfield Reservoir, relaxing night at home, and a gorgeous run with views of the mountains and frosty lakes. We even passed a Model airplane field, so we had lots of planes to provide entertainment. 🙂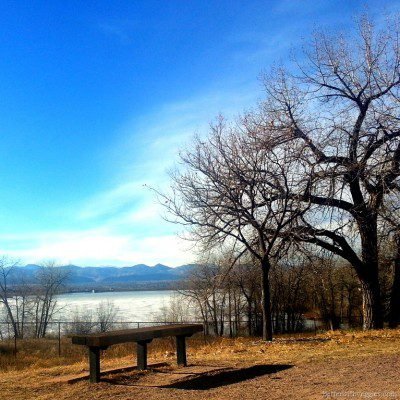 It was a little strange to see people ice fishing on the reservoir while we were riding our bikes in short-sleeves. That's not a sport I understand…
We actually decided NOT to go snowboarding this weekend, because both Kirk and I were in the mood to relax a bit more. Funny that relaxing weekend for us includes 5 hours of workouts, but we are a little crazy.
Long bike rides and runs give you plenty of times to think, so it's perfect for brainstorming recipe ideas. With Udon Noodles being the ingredient for this week, I immediately thought of soup. Lately, my favorite soup has been Pho. There's a fantastic Pho restaurant close to us that has a vegetarian version with the perfect mix of spices. I decided to use those spices as inspiration for my Udon Noodle Soup.
I used the slow cooker for this meal, so it had plenty of time to absorb the flavors, without tying me to the kitchen for the night. Don't be scared off by the total time this soup takes, because the active time is fairly minimal. And the end result is worth it – this is absolutely one of the best recipes I've created!
Faux-Pho Udon Noodle Soup
Recipe Type
:
entree, soup
Author:
Ingredients
+For the broth
cooking spray
1 1/2 onion, quartered
4 inches ginger, halved
1 cinnamon sticks
1 cardamom pod
4 star anise
1/2 tablespoon fennel seeds
1/2 tablespoon lemongrass
6 whole cloves
64 ounces Mushroom Broth
2 1/2 teaspoons salt
1 tablespoon sugar
1/4 cup red wine (optional)
1-2 jalapenos, sliced (optional)
8 ounces thin Udon Noodles
+For the tofu
2 tablespoons Hoisin sauce
2 tablespoons water
1/2 teaspoon ground cinnamon
1/4 teaspoon ground coriander
8 ounces sprouted tofu
Instructions
Place onions and ginger on a baking sheet coated with cooking spray, cut sides up. Broil on high for 10 minutes, rotate and broil for an additional 5 minutes. Remove from oven.
Prepare spices to be placed into a tea ball or mesh bag. Score the cinnamon stick and break in half.
Combine cinnamon stick through cloves in tea ball and seal.
In a slow cooker, combine the onions, ginger, mushroom broth, spice ball, salt, sugar, and red wine (optional). Stir to combine and seal slow cooker. Cook on High for 2 hours.
After 2 hours, add desired amount of jalapenos (optional). Cook an additional 1 hour, while preparing tofu.
To prepare tofu, combine hoisin through coriander and stir until smooth. Dice tofu into 1-2 inch cubes and toss with hoisin sauce. Allow to marinate for 30 minutes. Preheat oven to 375 degrees and cook tofu for 20 minutes. Remove from oven and set aside.
When soup has cooked for a total of 3 hours, strain solids and discard. Transfer soup to large pot and bring back to a boil. Add Udon Noodles and tofu to boiling soup and cook for 6 minutes or until noodles are tender.
While noodles are cooking, chop "condiments" for serving. I used cilantro, lime, sprouts, basil, jalapenos. I also recommend Sriracha and Hoisin sauce. Top hot soup with desired condiments and serve with chopsticks and spoons. Enjoy!
Powered by
Recipage
[Tweet "You CAN make Pho at home – in the slow cooker & vegetarian!! #recipe"]