It's been a few weeks, but Meatless Mondays from A-Z is back and ready to roll! With 8 letters left in the alphabet, I dare say the best is yet to come. I hope you're having as much fun as I am figuring out different ways to use the featured ingredient each week! New to MMAZ? Get all the details and see the past ingredients here. This week, I'm focusing on a classic meal that (almost) everyone loves…Pizza!
I think pizza is one of those foods that is often abused and becomes a greasy mess of yuckiness. Until we made pizza at home for the first time, it was hard for me to find a pizza in the I actually liked. When you're at home, you're in control of the ingredients and can make sure they are all high quality and delicious!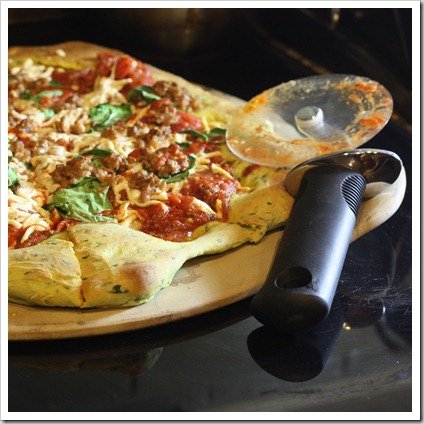 How about a new twist on your average pizza? You may have made your own crust before, but how about a spinach crust from scratch?! The simple addition of shredded spinach gives the typical pizza crust an extra veggie punch. Who says pizza has to be junk food?
Pile yours high with whatever healthy veggie (or even fruits) that you have on hand for a healthy pizza treat! For this week's pizza, I used toppings we had on hand. Starting with an easy, homemade pizza sauce, cheese, more spinach, vegan meat crumbles, and finally sriracha for a little extra spice (you know I love my spice).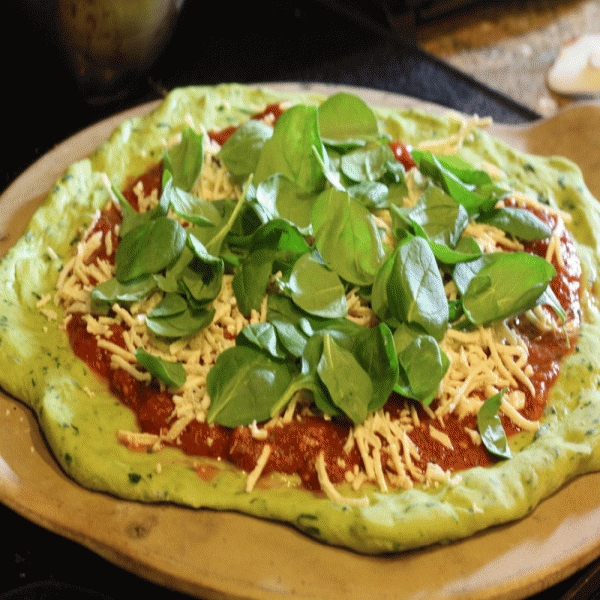 I channeled my friend Kristina to create this animated graphic – pretty cool, huh?!
Spinach Pizza Crust
Author:
Cook time:
Total time:
A basic pizza crust with a little veggie power!
Ingredients
2 cups spinach, packed
2 1/4 cups flour
1 package Fleischmann's Pizza Crust Yeast
1 /12 teaspoons sugar
3/4 tsp salt
3 tablespoons olive oil
2/3 cup very warm water
1-2 tablespoons nutritional yeast (optional)
Instructions
Preheat oven to 425 degrees.
In a stand mixer or large bowl, combine 1 cup flour, yeast, sugar, and salt. Add nutritional yeast, if desired. Mix or stir untl combined. Add water and oil and mix on medium speed. Add flour a little at a time until dough forms a ball, just slightly sticky.
Transfer dough ball to lightly floured surface and kneed for several minutes, adding more flour as needed.
On prepared pizza stone, pull pizza with your hands from opposite sides to create pizza crust. Be careful not to spread too thin in one area, so the crust can support the toppings (about 1/4-1/2 inch thick). Top pizza crust with desired toppings and cook for 12-15 minutes or until crust is browned. Allow to cools slightly, cut, and serve.
Super Spinach Pizza
Recipe Type
:
lunch, dinner
Author:
Cook time:
Total time:
Another way to eat your veggies in unexpected places – spinach pizza crust! A delicious, homemade pizza made with my spinach pizza crust. Feel free to adjust the toppings to your preferences!
Ingredients
1 batch spinach crust, uncooked
8 whole peeled canned tomatoes (about 1/2 30 ounce can)
2 tablespoons tomato paste
1/2 tablespoon dried basil
1/2 tablespoon dried oregano
1/2 tablespoon garlic powder
1 cup spinach, packed
1 cup non-dairy mozzarella cheese
1/2 cup vegan meat crumbles
Sriracha (optional)
Instructions
Preheat oven to 425 degrees.
Prep spinach crust and place on prepared pizza stone.
In a small bowl, combine tomatoes through garlic powder. With clean hands, mash tomatoes and spices together (careful – the tomatoes will squirt!) until tomatoes are reduced to chunky pieces.
Pour tomato sauce onto pizza crust and spread with spatula leaving about a 1/2 – 1 inch around the edges. Sprinkle spinach over sauce, followed by cheese and "meat". Squirt sriracha over top of pizza, if desired.
Finished Super Spinach Pizza
Bake for 12-16 minutes, or until crust is browned and cheese is bubbly. Allow to cool slightly, slice, and serve!
The finished product reflects my style of pizza – creamy, flavorful, and NOT greasy! Daiya mozzarella shreds are my preferred cheese for pizza, since it melts nicely and even gets that stretchy, cheesy texture.

Who else is in the mood for pizza now? 😉 And now it's time to see what other creative uses for spinach everyone else came up with! Who's recipe will be added to your "to-make" list this week?
********************
Questions for you:
What toppings would you change on this pizza?
Have you had spinach in your pizza crust before?