The past three days have been filled with lots of snow, trees, and a few spills. We're riding hard for at least 4 hours a day (closer to 6 most days) and eating a ton of delicious food. We're really enjoying our break from normal this week!
When we're at home, I'm always looking for ways to squeeze in a few extra servings of fruits and veggies. In addition to green smoothies for breakfast, I've been buying produce to bring to the office for the afternoon munchies. Things like sugar snap peas & ugli fruit fit nicely into my lunchbox and tide me over until dinner.
When we're on vacation, the food we eat is typically richer than normal and often less green. It's a little harder to start the day with a green smoothie when you're staying in a hotel!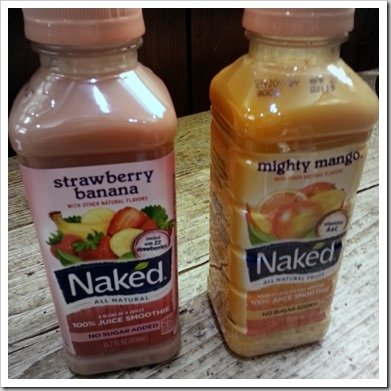 Luckily, the hotel market has a wide selection of Naked Juice smoothies that we've been enjoying after our day on the slopes. When I was asked to review two new flavors, you know I jumped at the opportunity! My usual Naked smoothie choice is Green Machine,but I was happy to branch out and try Strawberry Banana and Mighty Mango this week.
While both flavors were good, Mighty Mango was my favorite (the one I've bought a few times now). It's thick, creamy, and love the mango flavor without all the work of peeling and dicing a mango. Naked Juice smoothies are one of my favorites, because they aren't filled with a ton of extra junk you don't need. No added sugar, no preservatives, no GMOs. Thank goodness!
If I don't get enough veggies throughout the day, my body really does crave them! I really love drinks like this as a convenient way to "get my fix" when we're on the go.
Naked Juice is worth its weight in good! There's a pound of fruit in every bottle.
Naked Juice has partnered with charity Wholesome Wave to improve access to fresh produce in communities across the country. You can help by visiting www.nakedjuice.com/gooddeeds. For every coupon downloaded, 1 LB of fresh produce will go to an underserved community, up to 100,000 pounds.
Disclosure: Compensation was provided by Naked Juice via Glam Media. The opinions expressed herein are those of the author and are not indicative of the opinions or positions of Naked Juice.
********************
Questions for you:
Any new tricks for fitting in extra fruits & veggies in your diet?

Do your eating habits change on vacation?