Monday night I started to feel a little gross. All the travel food over the past 3 weeks is really catching up to me! I've been trying to make good decisions, but it can hard when you're eating at fantastic restaurants or eating catered meals. I also haven't been able to sneak in as many workouts as I would like, so I was just feeling a little…ugh. You know?
Breakfast
So I decided Tuesday was the day that would change. Instead of the standard carby hotel breakfast, I went in search of a green smoothie. I found Jamba Juice and got a green & apples smoothie. Not quite a homemade green smoothie – but darn close!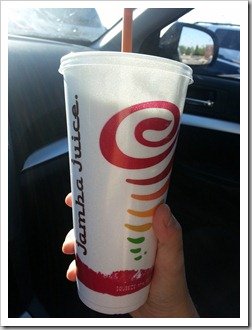 My first Jamba Juice experience and I was very impressed. This is also on my way to work from the new house, so it's great to know I have a backup option for a healthy breakfast on the go.
Snack #1
I have a hard time sitting in all-day meetings without snacking, so I gave in around 10AM and had a sleeve of cashews. Although I love the healthy fat & protein in nuts, it's really a LOT of calories. I have zero self-control and ate the entire sleeve. Need to pack my own snacks!
Lunch
Instead of eating the catered lunch, I headed to my favorite salad spot down the road for an awesome green salad. Fourleaf Chopped Salads was an early find near the office and I think it's going to be a regular on my list when I don't pack my own. Today's salad was made with spinach, asparagus, mushrooms, tomato, kidney beans, grilled tofu, with mint-lime-lemongrass dressing. It was fantastic!!
Snack #2
My afternoon snack was a banana – a much better choice, right?! I need to continue making whole food, fruit & veggie snacks like this!
Dinner
After work, I headed to the gym to fit in a quick 3 mile run. There was a storm outside, so the treadmill was my only option. It was a bit warm, so I put together an impromptu interval session to keep myself more engaged and working hard indoors. I finished the session with a serving of FitMixer Aminos – knowing it would be a little while until I sat down to dinner.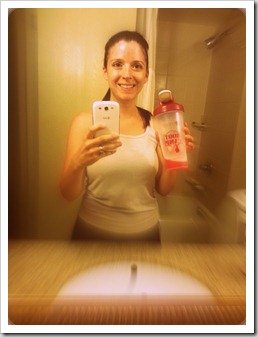 It actually took me some time to find dinner. I couldn't find the first place I picked out, the bar at the second place was PACKED (and I didn't want a table when I was solo), but I finally found a perfect spot of Root Down.
Now the bad news. My phone did not make it through dinner and I missed a photo of my amazing dinner. I promise to go back soon and do a thorough review of this restaurant – I need to share this place with Kirk anyway!
First up: I asked the bartender what his favorite cocktail was. He sold me on the Last Word, one of the barrel aged cocktails they have. That means they combine the cocktail (minus the citrus) and age it in a barrel for at least 4-6 weeks before serving. I had an opportunity to sample the cocktail straight from the barrel – YUM! It was still tasty with the added lime, but I honestly preferred it straight up. The Chartreuse is something I know I've tried at some point, but it really stood out tonight.
With the excellent cocktail selection, I asked for a recommendation for my dinner. The menu was great, with clearly marked vegan options on the menu. I was torn between the Rhubarb Risotto & BBQ Tofu, but decided on the Rhubarb Risotto for the evening. I was thrilled with my choice. The Rhubarb was a very light flavor – served as a reduction sauce over the top of the veggie filled risotto. Black quinoa (need to find this!), peas, and walnuts were the most prominent flavors and textures.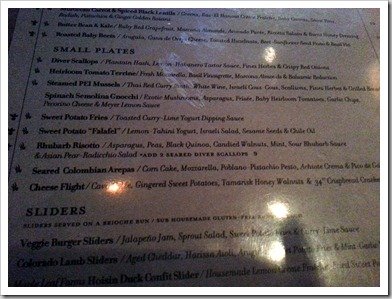 I had a great evening chatting with the bartenders and two lovely ladies also sitting at the bar. Eating alone is actually getting a little easier than it was a few weeks ago. It's kind of nice sometimes!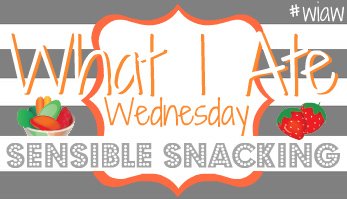 ********************
My goal is to keep my clean, veggie-filled, whole foods focus going as much as possible. I also need to up my workouts – both cardio and weights – to help balance things out. I knew it was going to be tricky as I started my new job, but I don't want to let things go too far either.
To that end, I am committing to a new challenge for July: Run To the Finish's 30 Day Ab Challenge! I have heard nothing but good things about Strong Like Susan (thanks for Bonnie for originally introducing with me), so I'm really excited to accept the challenge. I'm also investigating some food-related challenges, but realistically I won't commit until mid-July when we'll be moved into our new house.
*******************
While we're talking about challenges, don't forget the video challenge I shared yesterday. Shooting a video is easy – use your smartphone, computer's webcam, or a real video camera – whatever you have! It doesn't need to be a professional video, just be yourself and share some random facts about yourself! =)
********************
Questions for you:
Any tips for maximizing healthy eating when you're away from home?

Ready to join me in the 30 day ab challenge?

Any other food or fitness challenges you have been considering?