One of my favorite things we did in China was visit the Chengdu Panda Base of Giant Panda Breeding outside the city. This is a huge preserve about 45 minutes from downtown where most of the Pandas you see around the world come from. We were able to see Pandas of all ages – from newborn through Adult.
In case you thought this was just another zoo – look at this view! This was more Panda luxury resort than anything I'd ever seen before!
Newborns:
Some of the babies were so small there were in little incubators. Most Pandas are born (what we would consider) premature – with many births happening just 4 short months after conception. There is one recorded pregnancy that lasted almost a year, but most are closer to 4 months. That means that most of the tiny newborns don't fare well in the wild.
Aren't they adorable?!
Sub-Adult
This group (pack?) of Pandas were hilarious. They were shoving that bamboo in their mouths as quick as their pawscould move. Speaking of paws, look at the dexterity in those paws – see the guy in the front with his fingers curled around the bamboo?
They may not have thumbs, but they were still very skilled with those paws!
These guys were just lounging around and stuffing their faces. Sound like any kids you know? 🙂
Pandas seem to sleep in positions that look about as comfortable as the way Abbott & Zurie (our dogs) sleep sometimes. I guess it's comfortable if you're a panda?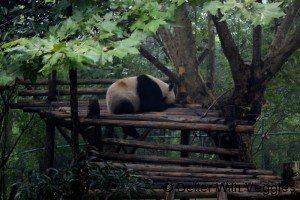 And the most photogenic panda of the day- the adult showing off for the crowd. Or is he bored?!
And finally a quick shot of the Red Panda – which is much smaller and reminds me of a raccoon mixed with a lemur (or something like that)!
We watched a video/documentary about Pandas before heading out – very educational. Some of the things I thought were interesting:
Apparently, the Panda species is well past the normal lifecycle for a species and we are lucky they are still around. This is one example of where human intervention may be beneficial!
The newborn Pandas are separated from the mama Pandas at the beginning – to protect the newborns from injury. They are born naked (fur-less) and we saw the mama knocking around the newborn – she just didn't realize how big she was.
Newborns are 1/1000 of the size of adults!
The Pandas aren't breeding well naturally, there aren't very many to choose from and they are naturally anti-social. Most pandas are born through artificial insemination (doesn't sound nearly as fun!).
This facility sends Pandas around the world – this is really where most Pandas live in the world today!
Pandas are cute – wait, I already knew that! 🙂
And then it was time to head back to town, but not before a shot of the group next to the Giant Golden Panda: