First I want to say THANK YOU so much for your support on yesterday's post. It was a hard one to write, but another reminder of how encouraging this community is. You guys rock!!
Today, I wanted to share with you a few things I've been loving recently.
1. BAMR Bands by Katie Heddleston
Earlier this month, I was lucky enough to get a BAMR Band from Katie to test out and review. BAMR Bands (Bad A$$ Mother Runner Bands) are 7/8 inch non-slip headbands made personally by Katie. Since I've only used drugstore headbands until now, I was really excited to see how these compared.
Not only are they headbands awesome, but a minimum of $1 from each band purchased goes to Every Mother Counts!
I tested these out during run & bike workouts and they really don't move! I usually shift around my headbands during a training session, but no issue there. And really, these are too cute to save only for workouts.
Most bands are $10 and shipping is $2.50 (USA only). You can see all the beautiful options at her online store, but I'll warn you…there's a lot to choose from! 🙂
I got these socks from my parents in my Easter basket and I'm obsessed. I spend a while searching the web to find where I could get some more and found that they come in even more crazy patterns!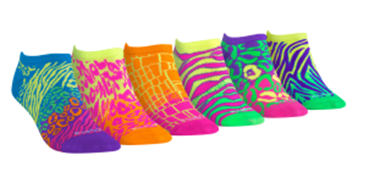 I'm not sure how they'd work out on a long run, but for shorter distances they are fine.These are even more fun if you pair them with a loud, obnoxious shoe and/or loud, obnoxious workout pant. I've done both! It looks like they are only $16 for 6 pairs of socks, which is cheap compared to what I usually buy.
I know I'm late to the Fit Bit game, but I finally got one through work as part of a pilot program. There's a good number of us in the office participating and it's fun to compare steps and have (friendly) competitions.
The funny thing is I was assumed to be the ringer on the team, but my average steps are terrible! I never realized how inactive I am during a typical workday until I had this and I'm really trying to change it (although it's harder than I thought!). It's great motivation to go for a walk with dogs, so I can reach my step goal for the day!
I found this app from a 15 year-old kid – seriously the best way to find new things sometimes! This camera app has a wide variety of filters and is one that I use with almost every photo before I post on Instagram. It allows you to choose the filter & border separately, so you can really customize the outcome.
I use the Android version (I have a Samsung Galaxy S3), but it looks like there is also an iPhone version available. If you're looking for more options for processing your phone photos – check it out!
And one thing I'm looking for….
I'm still on the hunt for an easy to use app to track strength training. I want to be able to put in my routine for the day, records sets, and weight per set. It doesn't sound hard, but I have downloaded at least 6 different ones and I just don't like them. Anyone have a recommendation?
Disclosure: I received a BAMR Band Headband in in exchange for sharing my honest opinion. All other items listed are things I've found over the past few months and I have no affiliation with the companies – just wanted to share my thoughts!
********************
Questions for you:
Have you tried any of these things?

What are YOU loving right now?