Sunday morning I was supposed to run 18 miles. Instead, I woke up with pain in my back that followed down to my arm. This is what happens when I move across the country and don't go see a sports chiro to help keep my back issues at bay since May. It's really because I work at a computer for much of the day – it's not great for you back. Instead of stopping, I added blogging. I don't listen very well.
Luckily, I have an awesome husband who massaged my back, neck, and shoulder instead of running on Sunday morning. Hopefully that means that while this post is being shared, I am up BRIGHT and early to get in 12-13 miles before work on Monday morning. Updated to add: didn't happen. Moving on…
But you're not here to hear about my back woes, you're here for the awesome Meatless Monday from A-Z recipe creations! This week we're on F, which means Figs – one of my favorite fall fruits, other than pumpkin.
Since there was no running happening on Sunday morning, I had some time in the kitchen before church – which means "fancy" breakfast. French toast sounds good…so how about we up the ante with fig cream?!
Today's creation was unabashedly inspired by the amazing Kristina's Sweet Cream Roasted Peach Bruschetta.  The combo was fresh in mind as I thought about breakfast options and I used what was in my cupboards to create a similarly sweet creamy center for my baked french toast.
I thought this recipe was a failure about 30 minutes in. You have to let it bake the full hour or the bottom toast isn't firm enough to eat. Your patience pays off when you top these decadent toast slices with the remaining fig cream and enjoy!

Fig Cream Stuffed French Toast
Ingredients
½ cup cashews
¼ cups +1/2 tablespoon water
½ tablespoons xagave
¼ teaspoon almond extract
6 medium black mission figs
¾ cup non-dairy milk
2 Ener-G eggs (vegan egg replacers)
¼ teaspoon cinnamon
1 tablespoon sugar
4 slices whole wheat bread
Instructions
Preheat oven to 400 degrees.
Crush cashews in the food processor until fine. Add water through almond extract and process until thoroughly combined. Add figs and combine.
Cut crusts off bread and lay in bottom of loaf pan. Combine non-dairy milk through sugar in small bowl. Pour half of mixture over bread. Top with ½ of cashew mixture, followed by remaining pieces of bread. Top with remaining milk mixture.
Bake in oven for 55 minutes to 1 hour. Top with additional fig cream and fresh fig slices.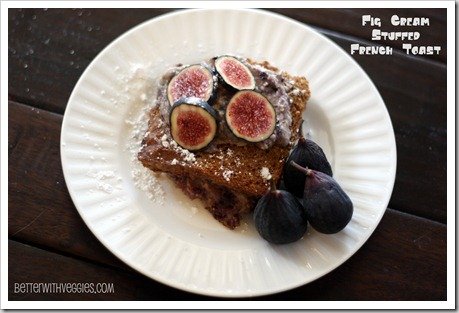 Now it's time to share your Fig creations!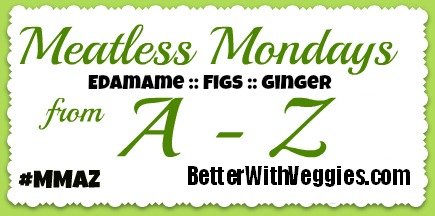 *********************
Questions for you:
Favorite Fall Fruit?
Did you have anything amazing for breakfast or brunch this weekend?