This past weekend was the 3rd annual Blend Retreat. Every year I wonder how it could possibly get any better. And every year it somehow surpasses my expectations! It's not one of those conferences where you go to learn how to make your blog better. It's a weekend retreat where you go to fellowship with other bloggers & readers who are interested in healthy living. It's hard to convey how amazing this weekend is to anyone who hasn't attended, but I'm going to attempt to share a bit about the flow of the conference to you.
What do we do all weekend?
Friday
We started with registration, where we got our HUGE bag of swag! This bag must have weighed 40 pounds, it was so full of goodies. The main sponsor of the weekend's festivities was Silk, who also provided the bag and served smoothies throughout the weekend. I can't even begin to list off all the amazing things that were in this bag, but looking at the picture below you'll get a good idea! We added to this throughout the weekend with even more room drops. I'm pretty sure the ticket price was covered in swag alone.

Disclosure: This post is part of my sponsorship with Nutrex Hawaii. While I was compensated for a series of posts, all opinions are my own. You can read my disclosure policy here.
Throughout the weekend, I used every opportunity to spread my love of Nutrex Hawaii. They were good enough to sponsor my trip, so that I could pass out samples of my favorite #spirulina and their BioAstin (currently trying it out!). It was great to see how many people we excited to get a chance to try it out – so many had similar experiences with really expensive spirulina in the past. Nutrex Hawaii is not only pure, but it's affordable. Keep reading to the end for a special discount for my readers!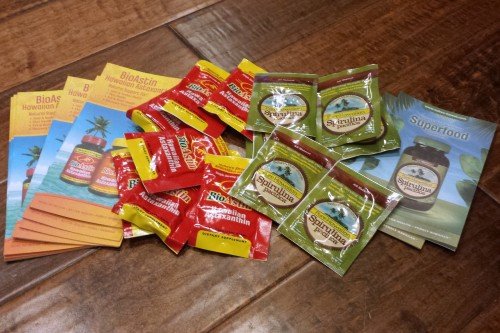 The activities kicked off with a group run, sponsored by Oiselle and led by Janae (Hungry Runner Girl). Laura (Sprint 2 the Table) gets big props for agreeing to keep running with me after the group run was finished. I am used to running at elevation, she is not.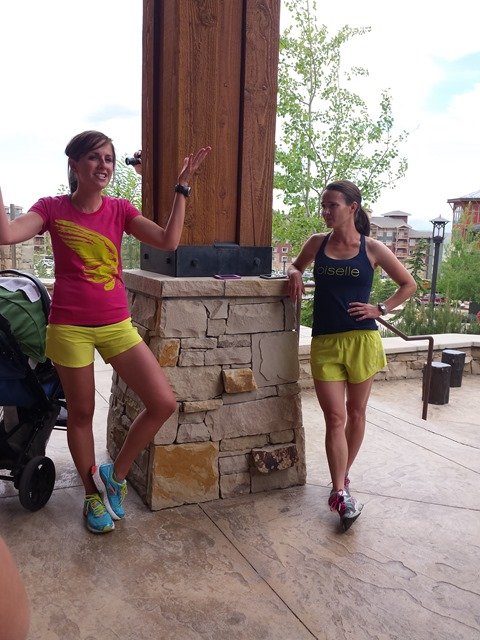 The evening really got going with cocktail hour and dinner, sponsored by Sizzlefish (affiliate) and Fluro Water. Although I skipped the cocktails due to my competition diet, the Sizzlefish was exactly what I needed to stay on track. They served cocktail salmon, marinated with a mix of brown sugar & gluten-free soy for at least 30 min. Grilled at a low heat on cedar planks for a smoky BBQ flavor.
I learned a lot about Sizzlefish (affiliate) from Blend and I'm planning to try more of their products soon. They have a wide selection of wild caught fish (which is important to me!), including: Coho salmon, Sablefish (black cod), Haddock, Cod, and Sea Scallops. They are planning to expand their wild caught offerings this summer, something I'll be keeping my eye out for!
This was the first night everyone was together and it was fun meeting LOTS of new people (thank goodness for name tags!). We snapped a quick roomie shot before the fun started, then Laura, Lindsay (Cotter Crunch) and I recreated one of our favorite pictures from last year at dinner.

Saturday Morning
We didn't stay up too late on Friday, since we started bright an early with Bootcamp (led by Onnit). I joined for the first 35 minutes, to stay on track with my training schedule.
We refueled with breakfast, sponsored by Quest Nutrition. I was so excited to see them there, as both Kirk and I are obsessed with their bars. We signed up for the automatic shipment program a few months ago, to keep us in good supply. They made Chocolate Fudge Cookie Cups (pictured below) – one of those treats you might have seen featured on social media. I never took the effort to do more than heat mine up, but these were so good, it might be worth the trouble!
After a break (where Laura and I snuck in a strength workout at the gym), we joined the group for a hike, sponsored by Organic Valley. They ran the gondola to mid-mountain just for us, so we had a chance to explore. It was very cool seeing what the trails I snowboarded in March look like in the spring! Can you believe I only snapped one selfie on the whole hike? The lovely ladies below are fellow Colorado bloggers – Madelyn (Moon Fitness) and Kait (Chickadee Says).
This was the end of the organized activities for Saturday – plenty of time to spend with our #blends (both new and old). This seems like a great point to hit pause in my recap, so this doesn't get too long. Come back tomorrow to read about the rest of the weekend!
*********************
In case you missed Blend 2014 or didn't get a sample of Nutrex Hawaii, I'm excited to share a 25% discount for you! Through 6/30, you can save 25% off all Nutrex Hawaii products by using the code "BLEND2014" during checkout. This is the perfect time to try out the Spirulina, BioAstin, and the Green Complete to see what works best for you!
*********************
Questions for you:
If you were at Blend, tell me your favorite part of Friday – Saturday morning.
If you weren't at Blend this year, tell me about your last weekend retreat!