This weekend I participated in my second color-filled fun run! The Color Run came to downtown Denver to fill the streets around Coors Field with crazy, fun runners who were more concerned with getting doused with color-infused cornstarch than setting a new personal record. And I LOVED it!!
Disclosure: I received entries to The Color Run in exchange for spreading the word, but all opinions are my own. See my full policy here.
Kirk and I started at the KIND tent – all fresh and white.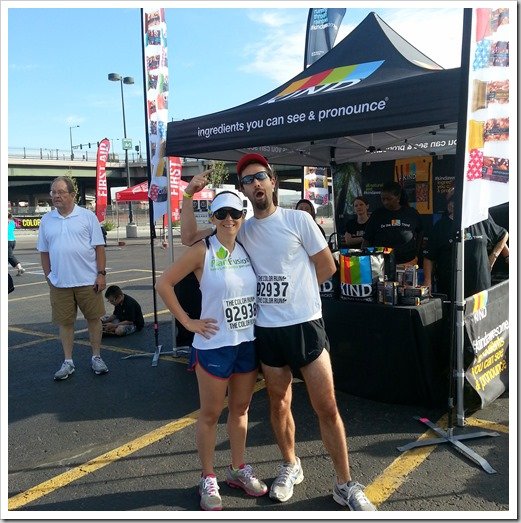 When we moved to the starting line, we decided to test our our color packets on Kirk!! He's such a good sport…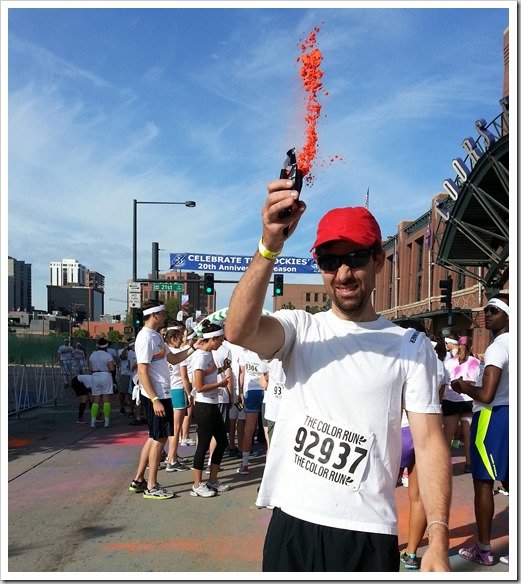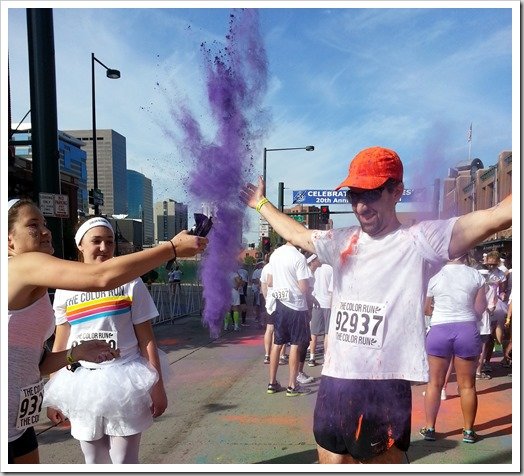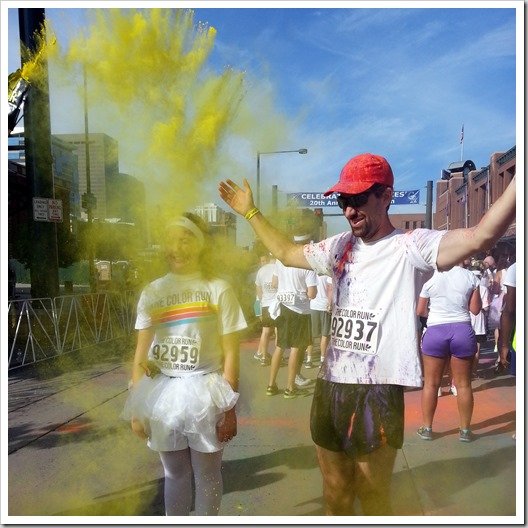 We met up with Kaity & Casey before the event started (she's the one throwing purple in the picture above) and stayed together through the "race". We ran between color stations and made sure we got covered in each color while we walked those sections!
In addition to the color, these fun signs were all along the course. Announcing each color station or just making random comments, they provided extra entertainment as we covered the 3+ miles back to Coors Field!
After we crossed the finish line, the party really started! Every few minutes, they had these "color bombs" by the concert stage. But it's much more fun to see it than for me to try to explain it:
The best photo of the day was all Lauren's idea, it was a #kindawesome jump for joy while covered in color. Lots of fun people in this photo: Casey, Kaity, me, Lena, and Kirk.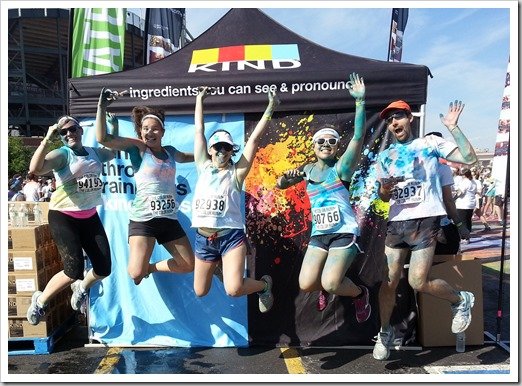 Although this photo of the Color Unicorn is pretty awesome too!
(photo from Kaity)
Thanks again to The Color Run for giving us the opportunity to participate in the race & KIND for all the goodies at the finish line! Remember that you can still save $5 off your entry to any remaining open race by using this discount code.
And now it's time to say good-bye for the day, as Kirk carries me away!
(photo from Lauren)
*******************
Questions for you:
Have you ever done a fun run?

Do you like getting dirty or do you prefer cleaner activities?