On Monday, I started my nutrition plan as part of preparing for my first bikini competition in November. This is the part I'm most nervous about, as it where I end up breaking down whenever I train. I haven't done a WIAW post in ages, but with so many questions about my new plan, I thought this was an appropriate week to bring it back! Make sure you head over to Jenn's place after reading this to check out more good eats for the week.
Nutrition Plan
I got my plan on Sunday morning & spent way too many hours trying to figure out how to attack it. It's hard for me to wrap my head around planning meals based on weight (ounces), instead of volume. The plan will likely change every 2-3 weeks, based on how I'm progressing.
Without getting too much into the details, here's an overview:
Eat every 2-3 hours, for a total of 7 meals per day
Each meal is assigned a specific number of ounces for protein, starch, & veggies.
Some meals also include a tablespoon of liquid fat (omega oil), avocado, and or fruit.
1 cheat meal per week, 1 glass of alcohol per week
All those numbers change based on meal & day, so I literally have it taped up in the kitchen to remind me what to do.
My initial thoughts – it's a LOT of food! Seriously, I'm not hungry when I get to the next meal right now…ever. If you thought I was going to be starving myself to look good in that bikini, you were mistaken. Thank goodness!
What I Ate Tuesday
Since it took me so long to figure out how to tackle my meal plan this week, I kept it really simple. I planned to eat the same thing for meals 2-5  this first week. I actually don't mind repetition like this, as long as I mix up a few of the meals each day, although I hope I get more comfortable & creative as the weeks go on. Sorry about the low-quality photos!
Pre-workout: I have since been corrected, but the first few days this week I've stuck with my 1/2 banana & teaspoon of nut butter (eating Nuttzo right now!) before heading to the gym in the morning. Starting tomorrow, this will be my real meal #1, which actually means I can spread out the rest of the meals.
Meal 1: Post-workout protein shake! This morning was a different mix that was good, but probably not something I would recommend for most people. In the mix today:
1/2 Peach
Sweet Potato
Spinach
Chocolate Vega Sport Protein Powder
Dash of Maple Extract
Espresso
Handful of ice cubes
Meal 2: Scrambled Sweet Eggs & Roasted Butternut Squash. The eggs were prepared in bulk with Silk Unsweetened Almond Milk, cinnamon, nutmeg, & allspice.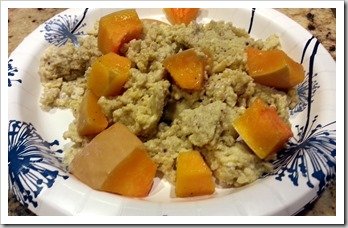 Meal 3: Deconstructed Buffalo Egg "Salad". That's a fancy way to describe my mess of a lunch, which included:
Sliced Hardboiled Eggs
Tabasco
Steamed Spinach
Whole Wheat Tortilla, diced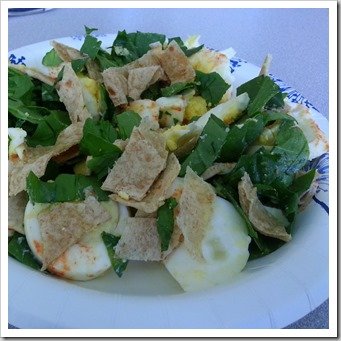 Confession: I planned this to be a wrap, but no way could I fit all that food in a 6" tortilla!
Meal 4: Tempeh Kale Salad. An easy snack of sautéed, seasoned tempeh on top a massaged kale salad with hemp hearts. Nothing too special here, but I can never get too much kale!
Meal 5: By now I really don't want any more food, but this Tofu Stir-fry goes down pretty easily. I bought the frozen southwest veggies to make this super-easy to prepare!
Meal 6: Each night this week is a fish dinner, but what we eat is different each night. Kirk has been in charge of making dinner so far (which is AWESOME!) – and last night was incredible. This fish (affiliate) was very lightly coated in panko & this amazing sauce…I can't even describe it. I've already requested it again so I can take some decent pictures & share the recipe with you.
Meal 7: Another meal I really never want right now, but this #strangebutgood mix of egg whites, pumpkin puree, a splash of Silk Unsweetened Almond Milk, cinnamon, & sage is surprisingly good.
*******************
Questions for you:
What is the strangest smoothie you have made?

Have you ever planned your meals using weight (ounces)?