Have you ever planted a tree? Depending on the size of the tree, it can be a HUGE job. I planted a few at a community center a few years ago as part of a volunteer project at work – and it's hard!
You have to dig a hole at least twice the size of the root, both in depth and width if I remember. I haven't tried that yet in Colorado, but in Georgia that means digging through the tough red clay. I know some people really enjoy this type of work, but it's really something I enjoy doing.
I have an easier way for you to plan a tree today – one that won't leave you with blisters & is fun! Have you heard of the All Hands on Earth campaign from Odwalla and The Nature Conservancy?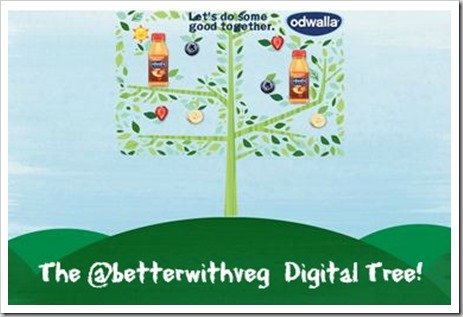 The campaign is to plant up to 100,000 trees through 2013 in cities and towns across the country and it's so easy to get involved! If you visit the Plant-A-Tree website, you can create your very own digital tree (like mine above!) and real tree will be planted in your honor. Then, you can sweeten the deal by entering for a chance to win great prizes!  
So basically, you can do the environmentally responsible thing (planting a tree), without leaving the comfort of your chair, &  have a chance to win prizes on top of that. I'd say that's a pretty great deal. I hope you'll join me by participating in this great campaign!
Between March 20, 2013 and May 31, 2013, Odwalla will contribute $1 for each tree you create to The Nature Conservancy for the planting of trees– no less than $75,000 and up to $100,000. The mission of The Nature Conservancy is to conserve the land and waters on which all life depends. More information about the Conservancy is available by mail at 4245 N. Fairfax Drive, Arlington, Virginia 22203, by phone at (800) 628-6860 or at www.nature.org
Disclosure: Compensation was provided by Odwalla via Glam Media. The opinions expressed herein are those of the author and are not indicative of the opinions or positions of Odwalla
********************
Questions for you:
Have you ever planted a real tree?

What's your favorite gardening activity?