You know it's going to be a good day when it starts with this: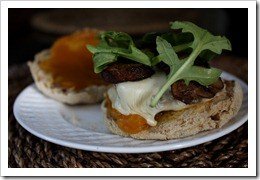 When Kathy posted this recipe for the Jack-O-Pumpkin Breakfast Sandwich earlier this week, I immediately added it to my list. Pumpkin Butter and Veggie Sausage smothered in Cheeze – duh! The savory and sweet flavors in this breakfast were exactly what I wanted. My hubby is still not sold on the veggie sausage flavors, but otherwise enjoyed the overall sandwich!
Dinner Time!
The Chinese also love food – which was likely one of the reason I enjoyed the country. Even the Red Pandas came running when it was time to eat!
One of my favorite meals from our trip to China was Mapo Doufu (麻婆豆腐), a Sichuan specialty that features Tofu in a spicy chile and bean sauce. As soon as I took my first bite, I knew I wanted to recreate this at home. It was the perfect mix of spice and flavor, with soft cubes of Tofu soaking up the red sauce.
Photo: Inspiration Meal in China
Note: When ordering this out, be sure that the restaurant's version does not contain meat, as some recipes to add that to the mix.
For my version of Mapo Doufu, I really wanted to play up the spicy, red sauce and went for a slightly firmer Tofu than the original. I marinated the Tofu in a Nutritional Yeast mixture to kick up the B12 numbers and added mushrooms for the meaty texture that many people add to this recipe.
The verdict? YUM! It was the perfect amount of spice for me, which means many people will want a glass of Almond Milk to wash this down. I like the textures of the Tofu with green onions.
Mapo Doufu
Author:
Ingredients
+Marinated Tofu
15 ounces medium-soft tofu
1/4 cup Bragg's Aminos
2 Tablespoons Nutritional Yeast
1 1/2 T Szechuan Hot Pepper Paste
1/4 cup water
+Sauce
2 teaspoons toasted sesame oil
6 green onions, chopped
6 garlic cloves, minced
1 tsp ginger, minced
1/2 cup red pepper, diced (about 1 small)
3/4 cup mushrooms, coarsely diced
1 tablespoon Black Bean Sauce w/ Garlic
1 – 2 1/2 tablespoons Szechuan Hot Paste (depending on how spicy you like it)
ground cayenne pepper
1 cup vegetable broth
1 tablespoon rice vinegar
1 teaspoon Bragg's Aminos
Rice
1 cup dry rice, cooked according to package directions
Instructions
Press the tofu for 1 hour (my method: cut the tofu in half lengthwise, lay on top of paper towels on cutting board, cover with more paper towels, add 3-4 cookbooks carefully on top)
Cut Tofu into 4 sections, then cut each section into 6-8 cubes (aiming for 1 inch cubes)
Mix together marinade ingredients
Add Tofu to marinade, cover, and refrigerate for at least 1 hour (stirring occasionally)
Heat sesame oil in large fry or sauté pan over medium-high heat. Cook green onions, garlic, and ginger for 2 minutes, or until garlic is fragrant.
Add red pepper and mushrooms, sauté until vegetables begin to soften.
Add Black Bean Sauce, Szechuan Hot Paste, Cayenne, Vegetable Broth, Rice Vinegar, and Aminos. Stir well to combine flavors. Simmer for 3 minutes.
Pour in marinated Tofu plus extra marinade. Simmer for 5 minutes.
Add 1/2 cup cooked rice + 1/2 cup tofu mixture to plate and serve immediately!