Guess what? It's What I Ate Wednesday (WIAW) again! What is WIAW?
What WIAW isn't about

Comparison – Judgement – Restriction – Guilt

What WIAW is about

Celebrating one of the glorious things we all have in common: We all eat!

WIAW is about food and fun! It's about making new friends, breaking out of a food rut, inspiring yourself & others, embracing fruit & vegetables, finding new ways to eat your favorite foods, and so much more <3

Celebrate blogging. Celebrate Food. Celebrate Individuality.
WIAW is hosted by Peas & Crayons – make sure you check out the blog if you haven't already! Lots of great meals for you to discover.
Now let's get on with What I Ate:
Breakfast
Today started out with my favorite caffeinated beverage: Espresso by Illy
Then I was ready to make breakfast. This morning's smoothie was inspired by Runner's World, but the flavor of the original was just not strong enough for me.
Maple Pumpkin Smoothie
Recipe Type
:
Drinks, Smoothie
Author:
Inspired by Runner's World
Ingredients
1 cup almond milk
1 1/3 cup canned pumpkin
2/3 cup silken tofu
4 tablespoon natural peanut butter
2 tablespoons real maple syrup
1/2 teaspoon cinnamon
1/2 teaspoon pumpkin pie spice
10 ice cubes
Instructions
Add all ingredients to blender and mix. Adjust amount of pumpkin & maple syrup to taste.
Lunch
Leftovers from dinner last night – as just as good! Tofu Nuggets & Lulu's Mac N Cheese from Peas and Thank You Cookbook
Pre-Run Snack
Thanks to JL Goes Vegan, I am addicted to Toast with Nutritional Yeast & Oil (she probably doesn't even know her tweet weeks ago has inspired this!). Today's oil was Peanut, this seems to be a great pre-run snack for me! I got halfway through this yummy-ness before remembering to snap a picture.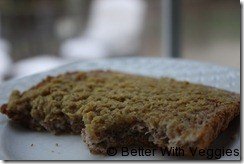 Dinner
Wednesday night also equals Run Club – which means dinner with the group after the run! Tonight I noticed Veggie Fajitas on the Taco Mac menu, which was a nice way to end the day (minus the cheese & sour cream).
This was accompanied by a surprisingly flavorful, spicy, and sweet Sam Adams Double Pumpkin…
Which also happened to be my 325th beer (all different) at Taco Mac, earning me my Ph. D in Beer. My reward? A nice receipt commemorating this evening and a Brewniversity Jacket (to be shipped to me) which I am confident will not fit me.
It's still awesome! 🙂
Question of the Day: What Did YOU Eat this Wednesday?