This is one of my favorite times of year for a run. When I have an evening free, I love to bundle up in layers and head out to run past all the Christmas lights in the neighborhood! To make the experience even more fun, wouldn't it be great to enjoy a christmas carol soundtrack? Take along a running buddy, turn on the speaker on your phone, and let the sounds of the season guide your run! Following my tips for running in the dark, of course.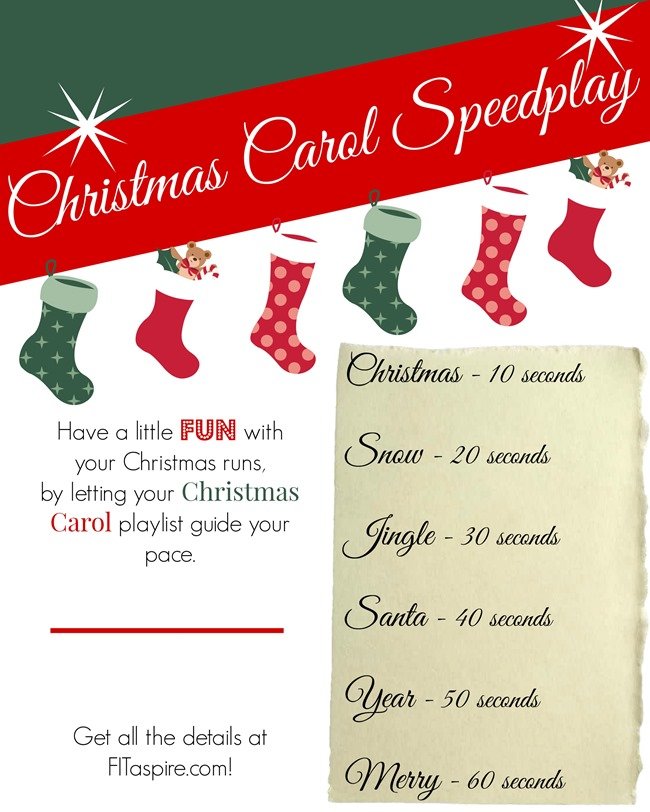 I had the idea for a Christmas Carol inspired workout and last night I finally tried it out. This was my motivation to go for a run on an evening I would have rather skipped it. Nothing like a little Christmas spirit for motivation.
Workout Details
Start by picking your favorite playlist of Christmas Carols. I chose the Christmas channel on Pandora, just skipping ahead when the pace of the music is too slow.
Start with a 5-10 minute warmup run, before starting the intervals. Next, when you hear one of the Christmas-y words on the list below (or in the image above), pick up the pace for the duration listed. For experienced runners, push the past as fast as you can hold for the duration. Allow yourself to recover for the same time period as the interval, before listening for the next word in the list.
Christmas – 10 seconds
Snow – 20 seconds
Jingle – 30 seconds
Santa – 40 seconds
Year – 50 seconds
Merry – 60 seconds
The first version I created had longer intervals, but did you know most Christmas carols seem to be less than 3 minutes long? To keep this fun, I changed things up to keep each word under a minute. If you're ambitious (or training for a longer race), you're welcome to lengthen each interval as you wish!
[Tweet "Celebrate #Christmas with this #running workout, set to your favorite carols. via @FITaspire "]
If you run solo, make sure the music is turned down low — or leave one earbud out — so you can hear what's going on around you. Of course, if you can't get outside for any reason, this works great on the treadmill too!
*******************
Questions for you:
What's your favorite way to enjoy the Christmas lights?

White or colored lights? Believe it or not, I have COLORED lights this year!