Did you think I forgot about the November #MMAZ ingredients? Well, I didn't! I've been working on a new logo for the weekly recipe challenge and I'm excited to review both the logo and November ingredients today.
BUT FIRST…
I had a few people ask for the recipe of the breakfast cake I posted on Instagram yesterday. I was going to wait until next week, but I decided you might be in the mood for a special treat over the weekend.
Not that you need to wait for a special treat with the nutritional stats on this cake! Just over 300 calories per serving, with 12.4 grams of protein. PLUS, this treat kept both Kirk and I full until lunch!
I've been inspired by the breakfast cake creations of Heather & Laura, but creating a vegan version took a little work. It really only took this long because I kept running out of time (or protein powder) to make it. Yesterday morning, I had enough time for my third attempt. I guess the third time was the charm in this case!
The cake looked promising from the moment I pulled it out of the microwave. When Kirk took the first bite, I knew it was finally done! I think the key to this vegan version is to beat the crap out of the Ener-G, so you really get a good foam.
Pumpkin Protein Breakfast Cake
Keywords: microwave breakfast brunch dessert vegetarian vegan pumpkin chocolate cake fall winter
Ingredients (2 servings)
For the Cake
1 scoop Vega Chocolate Protein Powder
2 tablespoons Cocoa Powder
1 teaspoon cinnamon
1/2 teaspoon ground allspice
1/2 teaspoon nutmeg
1/2 teaspoon baking powder
1/4 cup almond milk
1/4 cup pumpkin (canned)
3 teaspoons Ener-G + 4 tablespoons water
For the Frosting
1 1/2 tablespoons nut butter (I used sunbutter)
1 tablespoon maple syrup
1 tablespoon almond milk
Instructions
To make Cake
Combine protein powder through pumpkin in a medium bowl and stir to combine. In a small bowl, combine Ener-G and water and beat vigorously with a fork until frothy. Stir "eggs" into cake batter and stir until just combined.
Divide mixture between two small bowls (I used large teacups). Microwave one at a time for 4 minutes. When finished, run a butter knife around outside of teacup and flip over onto a small plate, so the bottom of the teacup becomes the top of the cake.
To make Frosting
While cooking, combine nut butter, maple syrup, and almond milk in a small dish and stir with a fork until combined and smooth. Divide frosting between two cakes and spread evenly.
Serve immediately!
I know I don't make most recipes more than once, but breakfast is a little different. This will likely make more appearances on our table.
********************
Now that I've shared this recipe, it's time to share the new logos and the November key ingredients! Drumroll please…
…
…
…
…
The new Meatless Mondays from A-Z logos!!
A wide version for each week's recipe reveal
and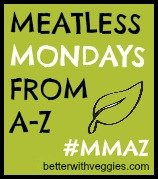 A sidebar version for participants!
Did you notice the month and key ingredients to the right of the wide version?
November 5: Miso

November 12: Nutmeg

November 19: Onion
We'll take the Monday after Thanksgiving off to let you recover from all that holiday cooking!
But before we officially get to November, don't forget about our final October ingredient for next week – Lentils!
Are you new to Meatless Mondays from A-Z? Check out all the details here!
********************
Questions for you:
What other flavors of breakfast cake can you dream up?

How about the new logo – what do you think?