With so many people starting the year with healthy eating goals, I thought this was a good time to kick off a series of cookbook reviews. Before changing my eating habits, dinner was almost always centered around meat. Veggies were (at best) an afterthought and there were many meals of just meat and grains. Removing the central ingredient in every meal was intimidating to start, which is where cookbooks and food blogs really helped me.
Let me be clear – eating a plant-based diet is actually very easy and delicious! BUT, when you're just starting out and coming from a meat-centric eating style, it's very different. It's about learning how to plan your meals differently. That's my hope for this series – to help you build a list of resources that will help you learn a new way of eating OR introduce you to a few books that you haven't tried yet.
My first cookbook purchase was Peas and Thank You. Whether you're transitioning to a plant-based diet, trying to reduce the animal products in your diet, or just looking for some delicious meals that your family will love – I highly recommend this cookbook. The author, Sarah Matheny, is known as Mama Pea and you'll see her recipes popping up all over. She is also the creator of the blog of the same name – Peas and Thank You.
I have cooked a LOT of meals from this cookbook that have been featured on the blog:
Tofu Mini Frittatas (p. 17)
                                                      Soft Pretzel Twists (p. 98)                         Tempeh Bacon Reubens (p. 68)
                                     Green & Red Lentil Enchiladas (p. 154)           Lulu's Mac and Cheese (p. 181)
                                                                                                                                            &  Tofu Fun Nuggets (p. 131)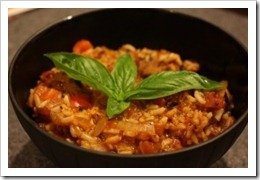 Pea Daddy's Jambalaya (p.186)
One recipe that my co-workers ask for at work (which I don't seem to have a picture of) is the Life's Not Fair Blueberry Scones (p. 13) – they are fabulous and obviously a crowd pleasure. Mama Pea's recipe for Tofu Scramble (p. 45) was my first and I use her seasonings as the base for many of my recipes today. You can drool over the full table of contents here.
The recipes in this book are generally quick (less than 45 minutes from start to finish, not counting pressing/marinating time), with easy to find ingredients, and a lot of information to get you started. She's included definitions of ingredients that may be unfamiliar to you – like nutritional yeast. If you haven't tried nutritional yeast yet, it's like crack – but legal. It's a strange taste the first few times you try it, then you want more…and more…and more!
The only negative that I can think of is there are a lot of faux/processed foods in these recipes. Lots of tofu, vegan sausage, seitan,  & non-dairy Cheese. If that's something that you try to avoid, this might not be the best source. Now there are many recipes that don't include these ingredients, but most recipes do contain one. Faux meats & cheeses are great for people who are getting used to a plant-based diet, but I try not to eat faux meat & cheese products every day now. In moderation, I definitely don't have a problem with it (I use faux meat & cheese in many of my own recipes).
Since buying the book for myself, I've purchased 4 additional copies: one for my mom, my mother-in-law, my sister, and for a previous giveaway. I have never purchased so many copies of anything that I can think of – it's that good!
Of all the cookbooks I'll be reviewing over the next few weeks, this one is the best. If you only have the budget for one – get this one. It's bound to be a cookbook that you pull out again and again, I know mine is stained, wrinkled, and very well-worn already.
Full Disclosure – I purchased all copies of Peas & Thank You with my own money and have not received any compensation for this review. I'm simply a fan of Mama Pea, the Peas & Thank You Blog, & Cookbook. All opinions are 100% my own!
Do you already own Peas & Thank You Cookbook? If so, what's your favorite recipe? If not, what recipe would you like to try?
****Time is running out to enter my SeaSnax giveaway!!
Head over and enter now – or tweet about the giveaway today for extra entries!****