Just over a day since my 7th marathon (8th, if we count the 50K last month) and it still seems unreal. When I posted my time yesterday on twitter, I kept starting with 4:Xx, instead of my official finishing time of 3:55:11. I have chased the 4 hour goal for so long and I'm so happy to have shattered that barrier.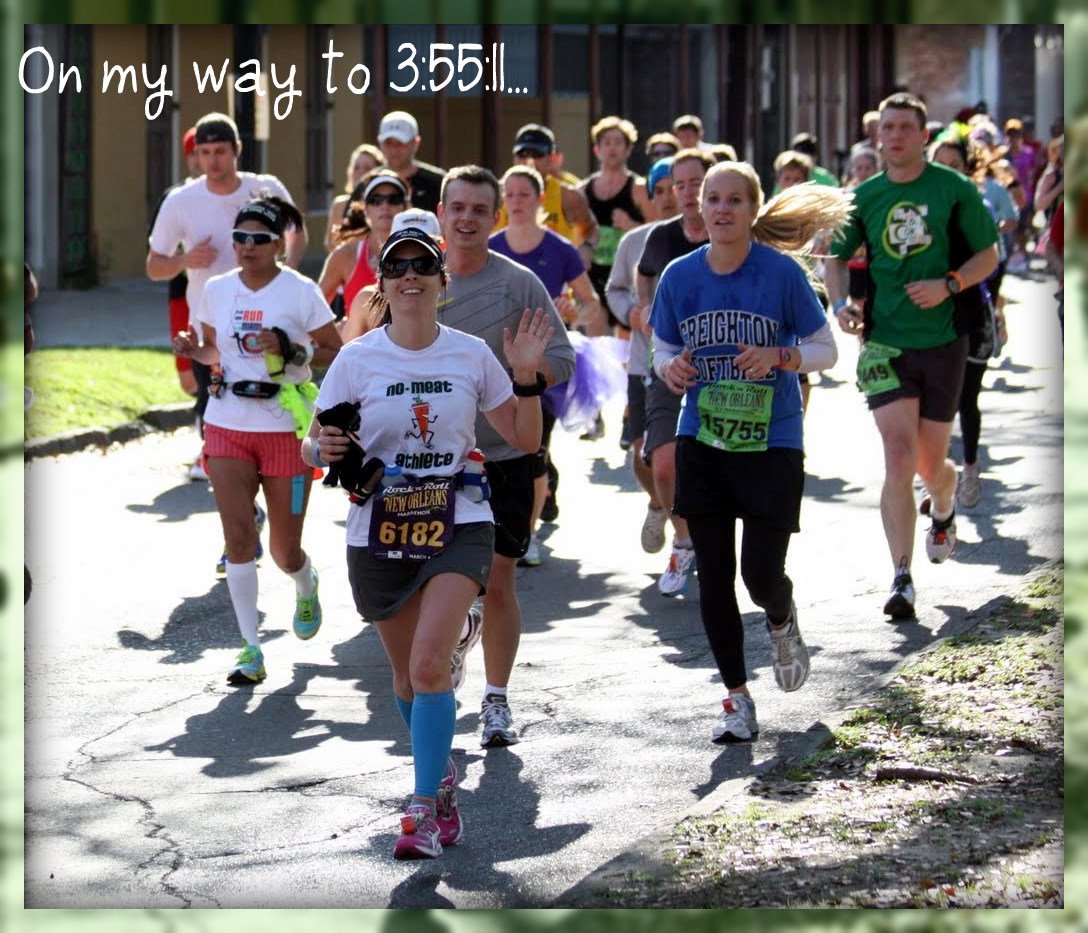 ***************************
Let's back up a little and start at the beginning. After packing for the race on Thursday night, I chose not to share my time goals. It was hard, but I sometimes put too much pressure on myself and I didn't want the extra weight on this race. My un-posted goals were:
3:55 finish
Under 4:00 finish
Under 4:16 (still a PR time)
I felt the 3:55 was a stretch, especially as recovery from the 50k had been "slower" and I've had some weird issues with my foot over the past 4-6 weeks.
Rock N Roll New Orleans Expo
I was uncharacteristically nervous on Friday night, but calm on Saturday. We had an uneventful flight to NOLA (New Orleans), enjoyed an early lunch in the French Market, and headed to the Expo. I was happy that the race offered women's specific shirts, but disappointed in the choice of white. I decided I would spend some money and buy a cuter shirt.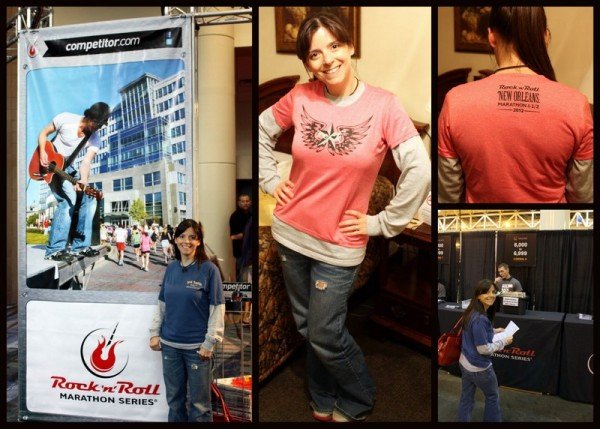 After wandering around the expos, I stopped by the Rock 'n' Roll (RnR) booth for my first ever #tweetup – basically a meetup "in real life" for people who are on twitter. It was great to meet a few running tweeps in person and talk excitedly about the race. The RnR folks offered us a free promotional shirt for the race, which is also much cuter than the race shirt. Thanks RnR!!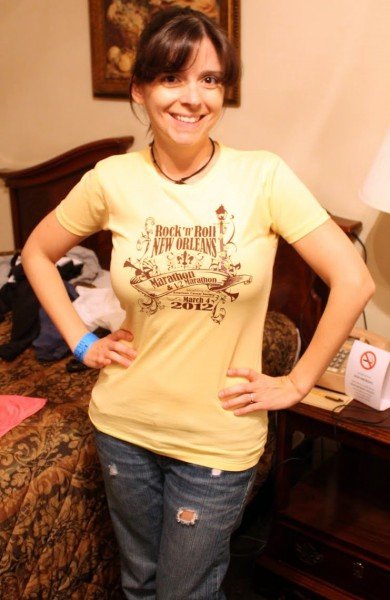 And that's how I ended up with THREE race shirts this weekend. It's a good thing the race turned out so well, I'm not sure what I would have done with all these shirts otherwise!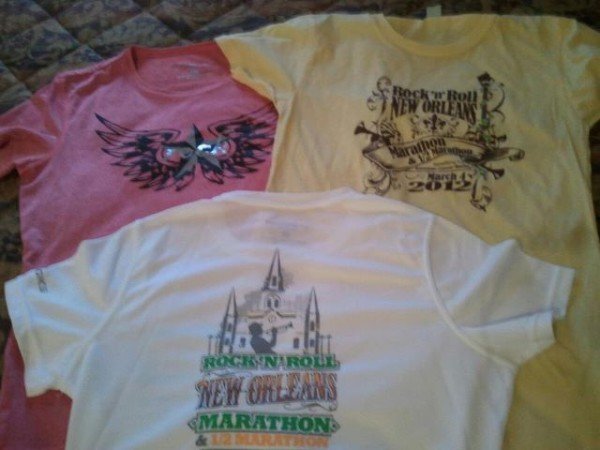 We headed back to town and found our way to the Crescent City Brewery for a sampler of their beers. Honestly, they were all mediocre and I was happy we split the sampler. After a little more sightseeing, we checked into the hotel, we spent some time relaxing and watching TV – I did have a race the next day, after all!
Pre-Race Dinner at O! Vegasm
Before heading down to New Orleans, we had done some research on the best places to eat in the area for vegan-friendly food. We had made plans for Sunday meals, but hadn't really nailed down plans for Saturday. We used this site  for many recommendations, then confirmed using Yelp & Happy Cow. We decided to try O! Vegasm in Marigny, about a 15-20 minute walk from our hotel at the edge of the Quarter.
When we arrived at the address, there was a dive bar in its place called St Roch Tavern. Luckily, I noticed a menu taped to a window around the corner and we wandered in. It was early, so only a few people were in the building and we tried to look less confused than we were. I finally spotted a chalkboard propped against the wall in a small back room – we had found it!!
Although small, the all-vegan menu looked delicious and we had a hard time narrowing down our choices to two entrees to split. We settled on a BBQ Sandwich with a side of Jambalaya and a plate of Chorizo Nachos. As often happens when I'm hungry, I forgot about pictures until we had destroyed the presentation, but trust me, this place is awesome!!
How can any sandwich covered with Mac n Cheese NOT be incredible, right? I'm going to have to recreate this at home! The cheese sauce on the Chorizo Nachos is made in house (cashew based) and was on of the best I have had. Check out their Facebook page, which has many more pictures that came out much better than mine. According to the page, the chef has cooked in  K Pauls Louisiana Kitchen, Emerils Nola and the Marigny Brasserie to name few . He came out after the meal to see how we enjoyed everything and tempted us with the brunch spread he was planning for the next day. I was honestly disappointed we already had plans. 🙂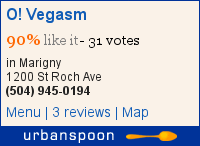 ***************************
To Be Continued…
In an effort to not bore you to tears respect your time, I think I'll review race day in a separate post. Click here to see Part 2!!
***************************
Questions for you:
Do you like to plan some restaurants before you travel or do you prefer complete spontaneity?
Do you share your race time goals with the world before your race or have you kept them private sometimes?
Do you have a fitness goal you've been chasing for a while?