Hey guys – I'm back! Did you miss me?
Before we get to #MMAZ for the week, I have to apologize one more time for the mess of issues on my blog last week. I have no idea how things broke when I was away from the computer, but they did, which meant many people didn't get a chance to see who won the anniversary week giveaways, comment on the amazing guest blog posts, or really do much of anything on the blog. I think everything has been restored back to normal, but please do let me know if you are having any problems today!
Let's start with a quick rewind:
Click here to see all the Giveaway Winners announced!! Did you win?
20% off any race training plan or 2 months of coaching! Simply put the code BIRTHDAY in the response to "How did you hear about Better With Veggies Coaching?" on the Athlete Questionnaire to take advantage of this discount. Offer extended through Friday, September 14th, since I know many people couldn't get to this form last week.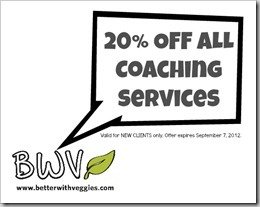 Save 15% off all orders (1 order per customer) of The Simply Bar with the coupon code SimplyVeg on their website!! This cannot be combined with other coupons and is only valid until September 20, 2012 – so get your order in now!
And the amazing guest posts!!  I was most disappointed that you didn't get a chance to adequately appreciate my friends who wrote some awesome guest posts. If you enjoyed these last week (or missed them the first time around) – please head over and show them some love!
And now it's time for the first Meatless Monday from A-Z for September – Edamame!!
I originally attempted my edamame recipe before vacation – a miso & edamame soup that was okay…but I wasn't excited about sharing it with you. I almost didn't share a recipe at all today, but I decided to give it another try on Sunday night.
And bonus…I had a special guest taste-tester in the house to help me validate the recipes!

You guys have seen Mark on the blog before, but he's our first (non-family) visitor to Colorado!! Did you notice he's doing a plank while posing with the food tonight?
This is NOT a complicated recipe, but simplicity can be very good! 
Edamame Two Ways – Napa Cabbage and Kale Salad
Ingredients (2 servings)
For Napa Salad:
1/2 cup napa cabbage, sliced
1/8 cup thinly sliced red onions
2 tablespoons edamame (shelled, I used frozen)
2 tablespoons rice vinegar
2 teaspoons olive oil
1 teaspoon Chinese 5 spice seasoning
1/2 teaspoon apple cider vinegar
2 pinches sea salt
For Kale Salad:
3-4 cups loosely packed kale, torn
1/4 cup edamame
2 teaspoons mellow white miso
2 teaspoons rice vinegar
1 teaspoon apple cider vinegar
2 teaspoons Bragg's aminos
1 tablespoon nutritional yeast
2 teaspoons extra virgin olive oil
1/8 teaspoon sea salt
1 teaspoon apple cider vinegar
Instructions
For the Napa Salad:
Combine rice vinegar through sea salt and mix well. Lay out cabbage, red onions, and edamame – sprinkle with dressing. Serve!
For the Kale Salad:
Combine the miso through apple cider vinegar and mix well. Massage into kale for 3-5 minutes and add edamame. Serve!
Of the two edamame recipes tonight, Kirk preferred the Kale salad and Mark preferred the Napa salad – I'm taking that as a sign that there's something here for everyone!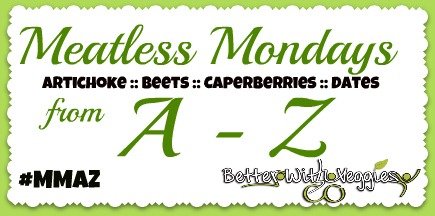 And now it's time to get back to watching Dr Who and the dinosaurs – so it must be your turn to share your Edamame #MMAZ recipes!
********************
Questions for you:
Favorite guest post from last week?
Did you watch Dr Who this week?
How did it get to be September?!